Cho Oyou Expedition (8153m)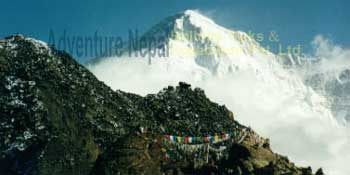 Cho Oyu was first climbed by austrians in 1954. It is about 30 km west of Everest at the head of the Gokyo Valley. The mountain was reconnoitred during the 1951 Everest reconnaissance, and a british team led by Eric shipton attempted the peak in 1952. The first ascent was made in 1954 via the north-west ridge using a route through Tibet from the Nanglpa La - not strictly a legal route. An Indian expedition mse the second ascent in 1958 and a German ski expedition made the third ascent in 1964. By 2002 a total of 125 expedition had been made on Cho Oyo. Most of the Nepal based expeditions had made the illegal approach through Tibet, and the Chinese had dispatched police to try to collect peak permit fees from climbers who crossed the border.
The approach to the mountain from both Nepal and Tibet is easy, and the ascent through Tibet is not particularly difficult. Of all Nepal's 8000m peaks, cho Oyo is second only to Everest the number of expeditions and successful ascents. In 2002 the record stood at 710 climbers reaching the summit, 342 expedition and 25 deaths.