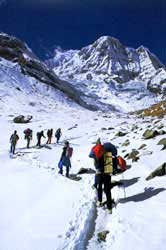 There are three seasons for mountaineering in Nepal. The permission season from April to early June was once the only season during which expeditions climbed major peaks.
In the 1950s all expeditions where in the lull before the storm period that occurs between the end of the winter winds and the beginning of the monsoon snow. Cold and high winds drove back the Swiss expedition to Mt Everest in 1952 when they attempted to climb the mountain in the autumn. It was not until 1973 that an expedition success fully climbed Everest in autumn.
Now the autumn or post monsoon season of September and Scoter is a period of many successful expeditions.
In 1979 the ministry of tourism established a season for winter mountaineering. It is bitterly cold at high elevations from November to February, but recent advances in equipment technology have allowed several teams to accomplish what was thought before to be impossible a winter ascent of a Himalayan peak.

Climbing during the monsoon, from June to august, is not practical from the Nepal side, though the north face of Everest has been climbed during august.
Two organizations control climbing in Nepal