Trekking In Nepal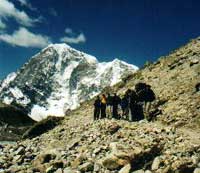 Is for persons of all ages who are physically fit and enjoy walking porters carry all your gear except what you need to the day's walk. Your small daypack may include camera, water bottle, and warm jacket or rain wear. Treks are planned for gradual acclimatization in higher altitudes day begins with hot tea, warm washing water and a light breakfast. You may walk 8-10 mails over rough and sometimes steep trails for 6-8 hours. Walking at your own pace, a friendly guide will be nearby. A delicious hot lunch will be ready for you at a scenic spot after the morning hike tea, time at the end of the day is for relaxation and sharing. Sherpas helper will set up two-person tents, a toilet tent and dining tent complete with portable table and stools for your comfort.
We operate two types of treks:
Click here for more details


Trekking Style
EVEREST BASE CAMP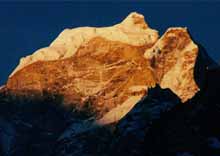 Mount Everest the world's highest peak lies in this region. It is the home of legendary Sherpas who have earned face in climbing mountains. Most of the inhabitants are still in trekking and climbing as sirdars. The climax of this trek in Everest base camp. Starting points are varied. One can start from Jiri or fly into Phaplu or Lukla and begin the trek. Walk till the base camp making side trip to Thame, Gokyo and Chukung. Finally retrace back to Lukla. Itinerary and full description send by mail.

ANNAPURNA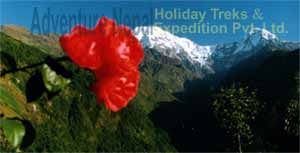 Central Nepal is dominated by Annapuma range. Diversity in landscape and culture has made this region as one of the most popular destination for the trekkers. Trekking points are varied from short trip to strenuous around Annapurna. Most of the inhabitants in this region are Gurungs and Thakalis. As you trek in this region the giant peaks Annapurna, Dhaulagiri, Fish Tail and other minor peaks are always around you. There are sights of Buddhist and Hindus pilgrimage. Kaligandagi flows through the deepest gorge. This region has become an exemplary conservation area in the world. Itinerary and full description send by mail.
AROUND MANASOLU
This region features the three mountains of Manaslu (81 63m) Peak 29 (7871m) and Himal Chuli (7893m.) ranging from north to south. This region is recently opened for trekkers. It is a fascinating trek, begins anti-clockwise direction from mid hill to alpine zone encountering diverse culture including a miniature Tibet and formidable Larke La (5275m.) Itinerary and full description send by mail
LANGTANG HELAMBU
The legend says while a lama following the run away Yak had found this beautiful valley. "Lang" means Yak (Dhang) Tang means to follow. Inhabitants are mostly Tamangs, very much similar to Tibetan in their costume and culture. They are more akin to Tibetans than their cousins in the mid hills of Nepal. Though there is no flight, the region is easily accessible from Kathmandu to its proximity. Within short days you are closer to the snowcapped mountains, glaciers and high passes.
Itinerary and full description send by mail