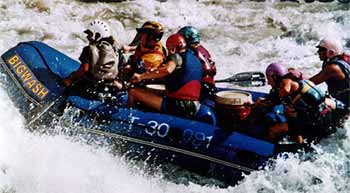 The rivers of Nepal take the traveler to the very heart of a magical land and is one of the most exciting ways of exploring Nepal's ancient cultures and unspoiled landscapes. Rising from the glaciers of the highest mountain range on earth and from the mysterious high plateau of Tibet the rivers plunge through narrow gorges and traverse their rugged foothills. Along its course the rivers passes through many life-zones traveling through alpine meadows, sub-tropical forests and the lush tropical jungles of lowland Nepal. Many of Nepal's rivers present some of the most exciting and challenging trips for rafters and kayakers alike.
TRISULI RIVER - 2, 3 Day Whitewater Trips 2-Day Trisuli Whitewater Trip Departure: January to November- 2000 Private departures are available for a minimum of 4 pax.
KALI GANDAKI - (3 DAYS/CLASS 4-) A beautiful unspoilt river with good white water, gorges, wildlife and a feeling of remoteness.Recommended for people looking for an exciting medium-length raft trip and as a self sufficient kayak trip for intermediate and expert kayakers. We suggest combining this river with a trek before hand in the Annapurna mountains. Also consider continuing down the lower Kali Gandaki to Chitwan National Park.
SUN KOSI - (10 DAYS/CLASS 4-5) One of the ten best rafting trips in the world. Big rapids, warm water, no roads or towns, beautiful scenery and great camping make this a classic multi-day river trip. An excellent trip for intermediate or advance kayakers. Rafters should be reasonably fit and comfortable on big water.
10-Day Sun Kosi White Water Trip: Departures: ( Mar-May Oct -May,2000) Private departures are available on request.
SETI RIVER - (2 DAYS/CLASS 2-3) A unique river passing through two beautiful and contrasting scenic areas. Relatively small volume, blues water and also warm. We recommended this as a 'warm up' river for intermediate kayaks. Trip start from Damauli. An easy accesses for raft or kayak trip.
2-Days/1 Night Seti Raft Trip: Departure: (ex Kathmandu or Pokhara) - Feb to May 2000 Private departures are available for a minimum of 4 pax for upped 4 days.