Bhutan
The last Shangri-La on Earth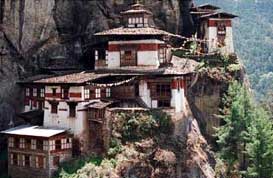 The kingdom of Bhutan is an exotic land of high mountains and fush ualleys, snow-clad peaks and clear running springs, a pristine ecology and an incredible wealth of wild life. Hidden in the eastern Himalayas between India and Tibet, this sparsely populated country of six hundred thousand people is the last surviving mahayana Buddhist state.
Bhutan has temained a hidden secret by choice for many years. Today, it has explore the hidden kingdom. Fairsteps Adventure Holiday Treks a leaking tour operator for Bhutan, now makes your dream come true through its exciting programmes, specially made for you to one of the most fascinating and mysterious land on Earth. Ee have special cultural and historical tours, excursions for wild life enthusiasts and bird watchers, trekking and expeditions for individuals as well as for groups. We present here with some of our exclusive package tours: If you need frothier information about bhutan Contac us
This Information Packet Includes :
4-Day BHUTAN CULTURE Tour.
Available Every Monday from Kathmandu, Nepal & Delhi, India.
Available Every Wednesday from Bangkok/Thailand.
5-Day BHUTAN CULTURE Tour.
Available Every Thursday - ex Kathmandu, Nepal & Delhi, India.
Available Every Sunday from Bangkok/Thailand.
7-Day BHUTAN CULTURAL ENCOUNTER TOUR
Available Every Tuesday & Friday ex Bangkok/Thailand.

8-Day BHUTAN CULTURAL Tour.
Every Monday & Thursday Ex Kathmandu/Nepal & Delhi/India.
10-Day BHUTAN DRUK PATH Trek/Tour
Includes a 5-day fully supported moderate trek.
15-Day BHUTAN JHUMOLHARI & JITCHU DRAKE Trek/Tour.
Bhutan's Most Popular Trek To Its Two Holy Mountains.