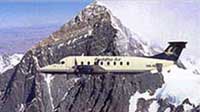 Mountain flight
Since Nepal is a mountain kingdom and reaching by flight within remote reaches of her countryside is not only mountain flight, still carry you even close to the highest mountain range Sagarmatha- Mt.Everest, just 5 nautical miles from your own window seat. These are sightseeing flights round one hour within & over the mountains. Sometimes one can dream to have a pare of wings and soar close to the panorama.... Once you are in Nepal do not miss the opportunity to complete your visit and bring your dream come true.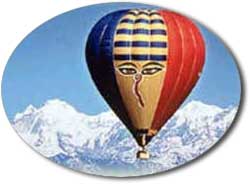 Hot Air Ballooning in Nepal
Ballooning stepped into commercial operation in 1995 in Nepal. Mostly only one-hour flight with a backdrop of the snow capped Himalayan peaks, over the Temples, Monasteries and Paddy fields spectacular view becomes most memorable and unforgettable for the life- time. In the morning within minutes of the ascent, the Majestic Himalayan panorama will appears range after range as your horizon. When one is in Kathmandu experience this alternative adventure in the comfort of the Wicker basket and in the world's oldest, safest and slowest means of flight in aviation history.