| | |
| --- | --- |
| Season | April-November |
| Clothing | Very warm/wollen Clothing, down jackets |
| Grade | Strenuous |
This tour will take you to the holy Mt. Kailash and Lake Mansaroval. You will experience the amazing beauty of Mt. Kailash, the resting place of Lord Shiva, and the depths of Lake Mansarovar.
Day 01: Drive Kathmandu-Kodari.
About 7-8 hrs drive through the beautiful landscape, gorges & banks of the beautiful crystalline rivers.

Day 02: Zhangmu-Pigu Tso.
Day 03: Pigu Tso-Saga.
Day 04: Saga-Zhongba.
Day 05: Zhongba-Mayumla.

Day 06-07: Trek around Mt. Kailash & drive to Lake Mansarovar.
Day 08: Lake Mansarovar.
Day 09: Paryang.
Day 10: Zhongba.
Day 11: Pigu Tso.
Day 12: Zhangmu.
Day 13: Drive Zhangmu-Kathmandu.

Tibet Trip
Highlights of this tour include two full days sightseeing of the capital city, Lhasa:......
more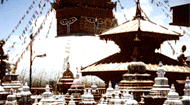 Bhutan Trip

The highlights of this tour are the three Major Cities of Bhutan with its wide open valley....
more
Ultimate Adventure