Bird Watching

This tour includes a drive to Phulchowki, one of the most popular bird watching spots in the Kathmandu Valley....
more

Ultimate Adventure
EURO-ASIA TOURS offers you eco-friendly culture tours, treks, white water rafting, birdwatching and exciting excursions in the inner parts of Nepal, Tibet, Bhutan, Sikkim and India.

NEPAL EXPERIENCE
This tour includes the major heritage sites of Kathmandu valley including Kathmandu, Bhaktapur and Patan city. The main attractions of these cities are:.......
more

TRISHULI WHITE WATER RAFTING
This river is most easily accessible river. It's the most popular river rafting of Nepal too. During the rafting, it passes through the impressive gorges ..........
more

Tibet Trip
Highlights of this tour include two full days sightseeing of the capital city, Lhasa:......
more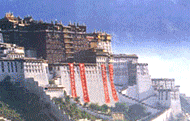 Bhutan Trip

The highlights of this tour are the three Major Cities of Bhutan with its wide open valley....
more