Bungy Jumping ...


The ultimate thrill of a Bungy Jump now can be experienced in Nepal at perhaps the best site in the world. Nepal's first bungy jumping site is situated at 160 m over the wild Bhotekoshi river, and located close to Nepal Tibet Boarder, a 3 hours drive from Kathmandu. The jump is operated by some of the most experienced jump masters in the business.
Tibet Trip
Highlights of this tour include two full days sightseeing of the capital city, Lhasa:......
more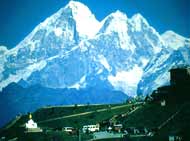 Bhutan Trip

The highlights of this tour are the three Major Cities of Bhutan with its wide open valley....
more
Ultimate Adventure