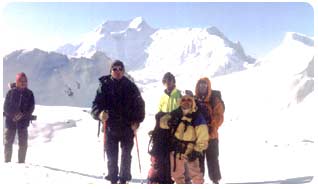 Trek means walking on the hills and moutains for 5-6 hours daily. The trek can be classified into four grades where 1 stands for easy route and 4 for strenuous. Trek in Nepal is a special and rewarding mountain holiday and tough or easy walking trip following well developed trails.
The unbeatable combination of natural beauty and cultural riches has made Nepal a unique destination and the best way to experience it is to walk through them. The main factors that make trekking in Nepal so unique and popular are the scenery, the people, the diverse culture and the flora and fauna. You will directly experience our culture and way of life of different ethnic people, religion, festivals.
Trek Season
Trekking in Nepal can be undertaken throughout the year depending on where you are going. Three are 4 seasons in Nepal each of, which has its distinct attraction to offer.
AUTUMN (Sep-Nov)
Autumn is the best season for trekking in Nepal. This season offers excellent weather and tantalizing mountain views.
WINTER (Dec-Feb)
This season is noted for occasinal snowfalls only at higher altitude. So, it's ideal for trekking at lower altitude, generally below 3000m.
SPRING (Mar-May)
The temperature is quite moderate in this season. Varieties of wild flowers, especially the rhododendrons are in complete blossom. The mountain views are excellent. This is the second best trekking season in Nepal.
SUMMER (June-Aug)
Summer months sometime continue up to September and making travel in this season can be wet and warm. This is the favorite season to trek in the rain-shadow areas north of the Himalaya like Mustang, Upper Manag and Dolpa. These places are out of reach of the rain clouds because of the huge mountains and are unaffected y the monsoon. This season is also recommended for forest researchers and botanist as the higher valleys and meadows blossom with flowers and lush vegetation. Raincoats and insect repellents are essential to trek in this season.
Preparing for a Trek
All Physically fit people can participate in our Trek Program.
One with cardiac and pulmonary history is required to take the advice of a physician before he/she decides to participate on a trekking program but they are definitely not remommended to trek in high altitude and strenuous treks.
It's recommended that you should have some knowledge about altitude sickness, its symptoms, prevention and remedies.
Your insurance policy should cover for helicopter evacuation expenses in the eventuality of serious illness or accident or the case you are stranded in any remote area due to inclement weather conditions.
You have to bring your personal trekking gear.
List of Trekking Gear
| | | |
| --- | --- | --- |
| 2 pairs of pants | Long sleeve shirts | Woolen sweater |
| 2-3 T-shirts | 2-3 pairs of underwear | 2-3 pairs of sock |
| Woolen socks | Sun hat | Woolen hat |
| Windproof Jacket | Rain Poncho | Down Jacket |
| Trekking boots | Camping shoes | Sun glass |
| Backpack | Flashlight | Walking stick |
| Sun screen | Lip balm | Sleeping bag |