Trekking in Nepal
Nepal is a trekkers' paradise. One can trek along will beaten trails or isolated outposts. Trekking can be as easy or as difficult as you want it to be. If planned well, it can include walks into areas of special interests such as when Rhododendrons bloom, or visit the Khumbu area during the Nami Rimdu festival. Other areas of interest could cover botanical, religious, anthropological , wildlife or plain rambling trips.
Full Service vs. Tea-House Trekking
Full Service treks include the following: porters, tents, sleeping bags, food, cook, trekking permit and other facilities. Also a detailed route description, equipment recommendation, health information and arrangement of transportation to and from Katmandu. Tea House Trekking, or live off the land trekking, means staying in local accommodations and adaptation to local diet.

We strongly suggest that visitors partake in a Full Service Trek for various reasons. The primary ones being that Tea-House Trekking causes considerable strain on the local supplies of food (most hill people have a subsistent lifestyle). Hygiene issues and a limited variety of diet, due to supply and available, can make trekking an unforgettable experience for the wrong reasons.
Fitness While Trekking
One should be physical fit for trekking. 5 to 7 hours of walking per day is the norm during a trek and this may take place at higher altitudes that normal. We recommend those suffering from heart or lung ailments not attempt any strenuous or high altitude treks. Of course, checking with your physician before trekking is always advisable.
When to Trek
Late September to May is the most popular seasons as skies are clear and rain is at a minimum. September to November provides vies of the himalaya for several hundred kilometers. December and January or the coldest months with heavy snowfall in the upper hills; crossing high passes at this time can become impossible. February and May is warmer in lower altitudes but the higher hills and mountains can sill be very cold and dangerous due to heavy snowfall.
Low Altitude Temp (1000m to 3000m)
Day 25 to 27 C and Night 0 to 5 C
High Altitude Temp (above 3000m)
Day 15 to 18 C and Night 1 to -15 C
What to Bring Trekking?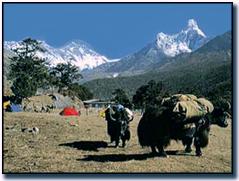 Warm down-filled jacket is essential

Windproof outer jacket is helpful

Comfortable trousers for men and loose skits for women during the day

Gloves
Hat or Cap to avoid sun burn as the sun in high altitude can be quite intense

Lightweight trekking shoes

Warm woolen/thermal socks
Thermal undergarments

Flashlight and spare batteries

Anti-glare sunglasses

Sun Burn Cream

Umbrella is useful for shade and as a walking stick

Sleeping Bag to withstand temp of -15 C
Note: many of these items can be rented in Kathmandu and Pokhara. Trekking shoes are essential as sizes may be hard to match inside Nepal.
Acute Mountain Sickness (AMS)
Also known as Altitude Sickness, AMS is the effect of altitude on those who ascend too rapidly to elevations above 3,600 m. Early symptoms include headache, loss of appetite, lethargy, and sleeplessness. Do not ignore these warnings as serious symptoms can cause death within a few hours. Being young, strong and fit does not help. Medicine is no substitute for descent. If a doctor is available, he may give medicine and oxygen. The patient must go down, however, even if given treatment. If you are traveling in Khumbu region and Manang , you can contact Khunde, Pheriche & Manag respectively for altitude sickness information. Hospitals are there with good doctors. To avoid altitude sickness you should walk slowly. If you feel exhausted, you have moved too fast or too high. Take time to acclimatize to each gaining altitude and give yourself rest days. If you start to feel unwell, retreat to a lower altitude immediately. It may save your life. The only cure for AMS is to descend immediately to a lower elevation.
Important Consideration
Treks requiring internal flights are subject to timetable adjustment due to various consederations such as the weather, load factor of the plane, availability of flights/seats on a given sector for a given date etc.