22 Day Gokyo Valley Trek
The trip up the Dudh Koshi river to Gokya is laced with lakes and breath taking scenery. It is alsoan alternate trek to the traditional Everest Base camp one. With the huge glacier of Ngozumpa giving a powerful setting, Everest (8848m) and other peaks such as Cho Oyu (8153m), Lhotse (8511m) and Makalu (8463m) become transformed from here. The view from here is probably better than from the Base Camp.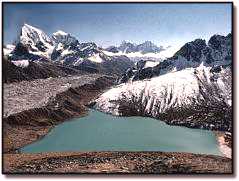 Day 01: Kathmandu (1357M)
Arrive in Kathmandu. Transfer to hotel. Overnight at hotel.

Day 02: Kathmandu
Free day for private excursions. Overnight at hotel.
Day 03: Kathmandu-Lukla-Phakding
Fly to Lukla. Lukha is situated on a hill above the Dudh Koshi river. Leaving Lukla, the trail descends, gradually passing above the large village of Chaunrikaka (2680m) and on through small villages, fields and forests following a wide well constructed path. After Kusum Drargka, a large stream, the trail crosses the Dudh Kosi river at Phakding. The total walking time between Lukla and Phakding is 3 hours. (Our entire trip to Everest area in Sagarmatha National Park has been planned is such a way so as to minimize the risk of 'High altitude sickness'. Please do not rush and if you feel uneasy about the altitude do not hesitate to tell your trek guide. In the first two days you are likely to feel a little uneasy due to the altitude). Overnight Camp at Phakding.
Day 04: Phakding-Namche Bazaar
From Phakding the trail follows the western bank of Dudh Kosi passing through forests of Blue Pine until it reaches the village of Benkar(2700m). From here the trail crosses to the eastern bank of the Dudh Kosi, and climbs gently to the village of Chumoa. Between here and the next village of Monjo(2800m) the trail drops steeply to cross Monjo Khola. From Monjo the trail crosses a small rock saddle and then descends abruptly to recross the Dudh Kosi at Jorsale (2804m). Beyond Jorsale the trail undulates up until the confluence with Bhote Kosi is reached. From here the Khumbu region begins. Above the bridge the trail zigzags up 300m of the steep spur between the two river through sparse forest. From the top of the spur, Mt. Everest can be seen rising above Nuptse-Lhotse wall. The next section of the trail climbs less steeply, traversing above the Bhote Kosi until Namche Bazaar is reached. Namcha Bazaar is a market town, where every Saturday morning traders from lower altitude sell goods to sherpas. Most of the trading is over by mid-day and the traders return to their villages. The total walking time is 6-7 hours.
Overnight at Camp.
Day 05: Namche Bazaar
Acclimatization is important so today we will spend the day free. We can explore Namche Bazaar. We can also visit the Mendelphu hill from where we can have an excellent view of Sagarmatha. Overnight at camp.
Day 06: Namche Bazaar-Phortse
From Namche we will start ascending to cross a ridge and climb a flank to reach Phunki. We continue climbing to reach Mon La, from where we descend to reach Dudh Kosi river. We set camp on the left side of the river (opposite the village of Phortse-3500m).
Overnight at camp.
Day 07: Phortse-Luza
Continue climbing along a steep rhododendron forest slope to pass several summer settlements (Kharkas) and onto Tongba. From here the forest end and the gradual gradient of the upper Himalaya is experienced. We pass Gyele and Dole with its meadows. After a short climb, we travel a level path to finally reach Luza (4360m).
Overnight at camp.
Day 08: Luza-Gokyo
We continue along the trail that climbs along the valley to Machhermo (4410m). We then climb a ridge that opens up as we pass through Pangka. Finally we descend to the riverbank before climbing onto the terminal moraine of the Ngozumpa glacier. We encounter two glacial lakes before we come across Gokyo itself (4750m). The view from here is breathtaking.
Overnight at camp.
Day 09: Gokyo
We can rest today or those feeling energetic can attempt to climb Gokyo peak (5360m) for a panoramic view of some of the world's highest mountains; Everest, Lhotse, Makalu and Cho Oyu.
Day 10: Gokyo- Machhermo
After breakfast follow the same route back through Pangka and continue walking to Macchermo (4410m) for night is about 4 hours.
Overnight at camp.
Day 11: Machhermo-Phortse
Walk down to Phortse Khola (3500m) passing through the summer settlements of Luza, Gyele and Dole.
Walking time is about 5 hours.
Day 12: Phortse-Khumjung
After breakfast a steep ascent for 2 hours gets us to Mani Danda. Later we shall stop for lunch at the cross-road of Gokyo and Thyangboche. A gradual climb after lunch will see us at the village of Khumjung (4790m). Overnight at camp.
Day 13: Khumjung-Namche
After breakfast walk down to Namche via Shyangboche for night stop. Every Saturday there is a market day at Namche, so if we are lucky to be here on Saturday it would be interesting to tour the market and do some shopping. Overnight at camp.
Day 14 : Namche-Phakding
After breakfast start walking along the Dud Kosi river and descend to Phakding for night camp traveling via Benkar and Jorsale. Journey of about 5 hours
Overnight at camp.
Day 15: Phakding-Lukla (2800M)
After breakfast start for Lukla for our last night under the stars.
Overnight at camp.
Day 16: Lukla-Kathmandu
Fly out to Kathmandu. Check in at hotel.
Free for rest of the day.
Overnight at hotel.
Day 17: Kathmandu
Free day at Kathmandu.
Overnight at hotel.
Day 18: Kathmandu
Transfer to Chitwan.
Elephant ride in the afternoon
Overnight at Lodge.
Day 19: Chitwan
Full day of jungle activities.
Overnight at Lodge.
Day 20: Chitwan-Kathmandu
After breakfast leave for Kathmandu.
Overnight at hotel.
Day 21: Kathmandu
Free day at Kathmandu.
Overnight at hotel.
Day 22: Transfer to airport/Departure.