Introduction to India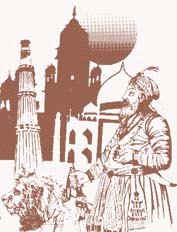 Our current history of India began in the fertile plains of the north some 5 to 6,000 years ago. Many believe this to be one of the locations for the birth of today's civilization. Through the following millenniums, travelers, settlers, conquerors, traders and a hosts of people entered India through the Himalayas in the north and the oceans in the south.
Infused by major religions of the world, some of whose birth was in India itself, India has a rich amalgamation of influences that are reflected in the complex socio-economic and cultural fabric of society.
Whether you want to...
Tour Palaces in the North or South

Venture down the Malabar Coast

Ride a Camel or Bicycle

See Wildlife or Flowers

Trek/Ski/Raft the Himalayas

Meditate at the Taj Mahal

Take a sacred dip in the Ganges or

Follow the life of Buddha through India and Nepal

Nepal Vision Destinations will take you there.
We have dozens of itineraries to choose from. Feel free to contact us with any questions you may have.