Introduction to Bhutan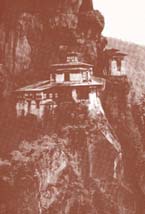 Druk Yul or "The land of the Thunder Dragon", as Bhutan is also known, is hidden in the eastern folds of the Himalayas. The 18,000 sq. miles, (47,000 sq. km) areas of Bhutan is bordered by Tibet in the North, Sikkim in the West and India in the East and the South. A Shangril-La, with magnificent beauty, lavish in its desplay of spectacular monastereies and forts known as Dzongs and with exceptional thrilling landscapes.
Nepal Vision Destinations will take you there.
We have dozens of itineraries to choose from. Feel free to contact us with any questions you may have.