Introduction to Tibet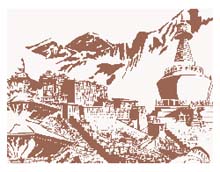 Traveling to the 'Land of Snows' requires some pre-planning and flexibility. The rewards of sightseeing at Potala Palace and the Drepung Monastery are well worth the commitment. If you are planning on trekking to Mount Kailash, you are probably already aware of issues with altitude while visiting Tibet.
Nepal Vision Destinations provides over half a dozen different tours into Tibet. Most of these have fixed departure dates that make it easy for you to join an existing group to meet the minimum requirements set by the Chinese travel authorities.
Please Note our Terms and Conditions
Booking
At least 4 weeks prior to your tour, a booking form with full passport details i.e. Full Name as Per Passport, Sex, Nationality, Date of Birth, Passport No., Occupation, Passport Validity and full payment of tour should reach us. Kindly note that the client's passport should be valid for at least 06 months from the date of entry in Tibet.
Group Size
As per the new Chinese regulations, a minimum of 5 Pax is required to operate a tour. However, we can offer individual clients the option of joining others individual to form a group of 5 Pax. This, however, would mean that they would travel together and do the sightseeing together with the other individuals.
Visas and Fees
All Chinese visas issued by Chinese Embassy Overseas has to be endorsed by the Chinese Embassy in Kathmandu to be valid for Tibet. The cost for such endorsements will be the same as the Visa Fee. Upon receipt of your full passport details we will process your visa for Tibet. But please note that the clients must arrive in Kathmandu at least 4 nights prior to departure for Tibet. Four Season Travel & Tours will process and apply visa for Tibet. For this, we require the passport and two passport-sized photo of all the clients upon arrival in Kathmandu. Please note that visa regulation for Tibet changes frequently, so we advise you to check with us if any changes has taken place when booking your client.
Visa fees are different for different Nationalities. We will need to know the Nationality of the client to advise the visa cost. The visa fee for American is US$ 10.00
Emergency Visa Fee
Should the clients not arrive 4 nights prior to their schedule departure for Tibet, we will still be in a position to obtain the visa from the Chinese Embassy by paying an Emergency Visa fee of US$ 40 per person (irrespective of nationality). For this a minimum of one full working day in Kathmandu is required.
Cancellations
50% of the tour cost will be charged as cancellation fee if you cancel the tour within 7 days prior to the start of the tour. No refund, thereafter, also for NO SHOWS, DELAY ARRIVALS or whatsoever the reason may be.
Altitude and Health Tips
Travelling in Tibet is an adventure involving high altitude and could be strenuous. While most visitors have only minor effects from the attitude, we advise people with known heart or lungs or blood diseases to consult their doctor before travelling. Mild headache, fever, loss of appetite or stomach disorder can take place in a process of acclimatisation. Our advise for better acclimation drink 4 Liters of water minimum a day, do not to exhaust yourself so much, breathe deep and take rest more than usual. For more information or altitude sickness please contact you doctor and also get advise the possibilities of taking Diamox to prevent altitude sickness.
Season and Clothing
Best Season : May to August
Clothing : May to Sep - Light Clothing, Nov to May - Warm Clothing
A warm jacket or sweater with sunglasses, chap sticks, sun tan lotion, Swiss knife, water bottle and a small medical kit, etc. are always advised.
Risk & Liability
Four Season Travel & Tours always put its full efforts to make your journey smooth and pleasant. However as all Tibet Tours are run strictly under Tibet Tourism Authority, Four Season Travel & Tours or its agents shall not be responsible for any change or cancellation of programs due to unavoidable circumstances such as road blockade, flood, snow, unrest , cancellation of flight, delay arrival of clients, sickness or accidents, political riots/disturbances, acts of God etc. Any extra cost incurring thereof shall be borne by the clients on the spot.
Insurance
It is highly advisable that clients have full medical, personal accident and trip insurance prior to arrival in Nepal. Kindly note that non of our tours are covered.
Flight Schedule
There are two flights a week between Kathmandu and Lhasa. These are on Tuesdays and Saturdays. As Tibet is closed for the winter, the first flight for 1998 is on 07 April while the last will be on 25 November.
Airport Tax
Departing Kathmandu: US$ 12.00
Departing Lhasa: US$ 12.00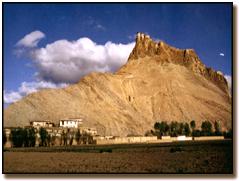 Trekking Itineraries Possible
Nepal Vision Destinations will take you there.
We have dozens of itineraries to choose from. Feel free to contact us with any questions you may have.