Everest Region Treks
DAY 01 :
We fly from Kathmandu to the tiny airstrip at Lukla(2800m) for about 40 minutes. This airstrip was built in the sixties by Sir Edmund Hillary and the Sherpas. Once landed, we have lunch while our equipments are sorted out and loaded. We then take an easy walk to Phakding and camp.
DAY 02 :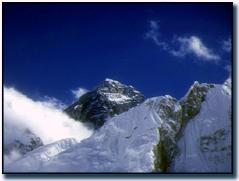 As easy day again to help for acclimatization. This is a busy trail with plenty of human interest. There are also tantalizing glimpses of Kusum Kangru (6369m) through the beautiful pine forests and we camp at Joresalee (2800m).
DAY 03 :
Not a long day but a hard pull up ton Namche Bazar to arrive for an early lunch and our overnight camp. As we climb, we have our first views of Everest (8848m) and Nuptse (7879m). We camp right in the heart of the village and have the rest of the day to enjoy the splendid Sherpa hospitality.
DAY 04 :
Rest and acclimatization day at Namche Bazar (3444m). We enjoy a rest day here to allow for maximum acclimatization on our way to Everest Base Camp. A pleasant day can be spent exploring the village, talking to the Sherpas and simply enjoying and marveling at the incredible scenery.
DAY 05 :
Today we walk along a very pleasant trail under the soaring peak to Thamserku and steadily descending to the Imja river and lunch at Phunki where there are a series of water driven prayer wheels. In the afternoon, we climb steadily for about 2 hours to Thyangboche Monastery (3875m) and the views from here are magnificent. The Monastery is literally surrounded by mountains. Yaks graze on the small meadow and the monks drone through their prayers. Surely, this is one of the most beautiful spots in the world.
DAY 06 :
Rest and acclimatization day at Thyangboche. This is a day to relax and enjoy the magnificent scenery that surrounds you. Everest Lhotse, Nuptse, Taboche (6367m). You can visit the Monastery and the monks will happily show you around. This is just the spot for a rest day.
DAY 07 :
We move up the Imja river valley to Pangboche (3900m). We stop here for lunch and visit the Monastery and look at the 'Yeti Sculpt'. In the afternoon we continue on to the summer village of Dingboiche (4360m). The scenery all day is superb.
DAY 08 :
Another rest and acclimatization day at Dingboche. This rest and acclimatization day should give you an excellent chance of ascending Kala Pathar, the Base Camp of the Everest. From these yak herders' village, there are a number of interesting excursions. A 2 hours walk to the huts at Chukung (4700m) will take you to the glaciers flowing off Nuptse and Lhostse. We camp at the foot of Amadablam.
DAY 09 :
We walk up a small ridge and then contour around the base of the Khumbu Glacier and have a light lunch at Dhungla (4600m) From here, we have a short steep climb to the terminal moraine of the glacier from where the views are stunning. We contour round the moraine again to camp at the foot of the Lobuje Ice Fall (4930m).
DAY 10 :
Today, we climb Kala Pathar. The actual distance is not so far but we take it very slowly to compensate for the altitude stopping at Gorekh Shep (5288m) for a light lunch. We then take the climb to Kala Pathar (5545m). This is a hard pull but the view from top surpasses anything you can imagine. All around us flow huge glacier ice. The mountains of Pumori (7145m), Lingtren (6697m) and Khumbutse (6623m) separate us from Tibet, and just over the Lho La pass. We see the huge rock of Changtse (7550m) in Tibet itself. But the queen of them all- Sagarmatha (Everest) towers over everyone. This is the Roof of the World. We return to Lobuje at our camp.
DAY 11 :
We retrace our steps along the glacier to Pheriche (4260m) and stop for lunch. In the afternoon, we take the lower trail to Pangboche and Thyangboche and camp.
DAY 12 :
Descending to Imja river we climb to Khumjung for lunch. Excellent views all day and camp at Khumjung (3779m).
DAY 13 :
Descending, pass through Namche Bazar passing under the towering Kongde ridge (6186m) and follow the Dudh Koshi to Phakding to camp.
DAY 14 :
We walk to Lukla and enjoy a farewell party with our Sherpa crew.
DAY 15 :
Fly back to Kathmandu.
---
---
Rolwaling Himal 22 Nights / 23 Days Trek
Day 01:
KATHMANDU/BARABISE (850 M.) 1/2 HOURS.
After early lunch, drive to Barabise on the Arniko highway. The 86 km drive takes around 4 hrs. From Barabise trek for 1/2 hours and camp near the Mahadeva Koshi temple.
Day 02: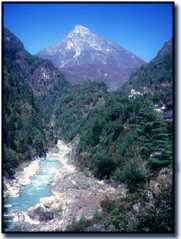 BARABISE/JALJALE (2130M.) 8 HOURS.
After crossing Koshi river ascend to Dhunge Patti for about an hour and then to Pisker (1760 m.) via Aklaigaon. Have lunch at Pisker and then trek to Jaljale. Ascend for about an hours to Dang Jhale (2450 m.) if the day is pleasand enough for overnight camp.
Day 03:
JALJALE/BONCHA (1930 M.) 7 HOURS.
Trek for about an hours to chotke pass ( 2670 m.) form Dang Jhale. Descend to Burkosir (2480 m.). After having lunch at Daray Dunga descend further to boncha for overnight camping.
Day 04:
BONCHA/DOMBAN (990 M.) 8 HOURS.
After crossing the stream ascend the trail which passes through the scattered village of Makai Bari till Charikot is reached. the track then descends to Dolkha
( 1800 m.). Have lunch near the Bhimsensthan temple and then descend to the crest of the ridge down to the confluence of the Bhote Koshi river foor camping.

Day 05:
DOMBAN/SURI DOBAN (1130 M.) 8 HOURS.
Follow the track on the western bank of Bhote Koshi., which maintains a steady height through terraced fields and scanty pine forests for about 3 hours. Halt for lunch before reaching Pekuti village. From there to Barclays suspension bridge takes about 3 hours and after crossing the same trek for another hour along the right bank to reach Suri Doban, where you will camp for the night.
Day 06:
SURI DOBAN/ TASHINAM (2235 M.) 8 HOURS.
After walking for about 2 hours along the right bank of Bhote Koshi, Tatopani village is reached. The hot springs lie on the other side of the river. Trek for an hour to mandali village (1245 m.) and halt for lunch. A steep ascend for about 1000 m. through pine and rhododendron forests brings you to Tashinam, a Sherpa village.
Day 07:
TASHINAM/SHAKBA (2650 M.) 7 HOURS.
After climbing a little, the trail descends gradually round a Patti ( resting place) at around 2310 m. from where one can see the confluence of Bhote Koshi and Rolwaling Koshi. The trail after this place is quite dangerous. Descend through a thin forest to Senbigaon, where you will have lunch and then continue to Shakba for camp.
Day 08:
SHAKBA/RAMDING (3000 M.).
From Shakba the trails passes through a small forest. Have lunch by the stream at Dangkhang Dzong 3100 m. The trail then climbs gradually up to bridge. After crossing the same and following the western bank, arrive at Ramding passing Nimeray on the way.
Day 09:
RAMDING/NANGAON (4150 M.) 6 HOURS.
After passing Jomojunja, you will reach Boding 3800 m. in an hours time. Boding is the largest village in the Rolwaling valley. Have lunch near the large Stupa and then ascend for 3 hours along the left bank of the stream to Nangaon.
DAY 10 TO DAY 14:
EXCURSIONS IN THIS REGION.
Day 15:
NANGAON/TSOBUK LAKE AREA (5000 M.) 6 HOURS.
From Nangaon the trail to Ramding Himal and Tashi Lepcha separates. After gradual ascent through the valley. Tsobuk Lake is reached in about 3 hours. Have lunch there. The trail beyond is dangerous and rocky. Camp at the foot of the glacier.
Day 16:
TSOBUK LAKE AREA/DROLUMBAU GLACIER (6400 M.) 5 HOURS.
Cross the mountain to the right and climb on ice and snow for about 300 m. to be on the flat Drolumbau glacier. Walk for about 3 hours gaining steady altitude and climb to the camping area 350 m. short of Tashi Lepcha Pass at 5750m. You will be provided with a paced lunch for this route.
Day 17:
DROLUNBAU GLACIER/TASHI LEPCHA AREA (6400 M.) 4 HOURS.
Climbing to Tashi Lepcha and descending towards Khumbu area involves technical gear and skill. The view from Tashi Lepcha is beyoin description. You can see the Mt. Everest with it's numerous satellites like Thamaserky, Amadablam etc. surrounding the Drolumbau glacier.
Day 18:
TASHI LEPCHA AREA/THAMI (3810 M.) 6 HOURS.
Descend all along the steep slopes up to the Yak pasture at Tsangpo 4220 m. for lunch stop. The track now descends very pleasantly to Thami village where you will camp for overnight by the stream.
Day 19:
THAMI/NAMCHE BAZAAR (3440 M.) 5 HOURS.
A trek for about 3 hours brings you to Namche. During the entire walk you are in view of the Kunde range on right and Thamaserky in the front. Camping is done about the bazaar and on the grazing ground.
Day 20:
NAMCHE BAZAAR/SHYANGBOCHE 8 HOURS.
Make an excursion to THYANGBOCHE Monastery with packed lunch which takes about 4 hours each way and return to NAMCHE.An excursion to Khumjung, Kunde.
Day 21:
SHYANGBOCHE/GHAT (2510 M.) 6 HOURS.
After breakfast descend to Hillary bridge and then follow the Dudhkoshi to Jorsale for lunch halt. Overnight camp at GHAT by the stream.
Day 22:
GHAT/LUKLA (2800 M.) 4 HOURS.
After breakfast, ascend gradually to Lukla. Camp near the air strip.
Day 23:
LUKLA/KATHMANDU.
After early breakfast, walk to the Lukla Airport to board Kathmandu flight.
---
---
11 Days Khumbhu Trek
DAY 01 :
We fly from Kathmandu to Lukla (2800m). This flight provides a magnificent entree to the trek. An easy walk through several village to camp at Phakding.
DAY 02 :Today, we have a very pleasant day walking to Jorsalee (2800m). We pass through several small villages and beautiful pine forest. This is a busy trail with plenty of human interest. Out first good views are especially of the west ridge of Kusum Kangru (6339m).
DAY 03 :
We follow the Dudh Kosi for about 1 hour and then climb slowly up a steep trail to Namche. As we climb, we enjoy our first views of Everest (8848m), Nuptse (7879m) and Lhotse (8383m) - the big three. We camp in the heart of the Namche Village.
DAY 04 :
Climbing gently out of Namche, we follow the trail high above the river, passing through numerous beautifully inscribed mani (prayer) stones. Thami village is dramatically situated below the peaks of Teng kangboche (6500m) and kwangde (6187m). The monastery is well worth a visit, being one of the most beautiful and important place in the Khumbhu region.
DAY 05 :
Retracing our steps, we return to Namche Bazar.
DAY 06 :
Rest and acclimatization day.
DAY 07 :
We walk along a beautiful trail with excellent views of the Everest massif and the southern skyline dominated by the soaring peak of Tamserku (6623m). Descending to Imja river, we lunch at Phunki (93200m), next to several large water driven prayer wheels. The afternoon is spent climbing slowly to the monastery and one of the most beautiful spots on earth and camp at Thyangboche Monastery.
DAY 08 :
Rest and acclimatization day.
Day 09 :
We descend to the Imja river again and climb steadily to the twin village of Khunde and Khumjung. Keep your eyes open for the splendid Danphe Pheasant, Nepal's national bird. At the monastery in Khumjung, there is what the Sherpas claim to be the scalp of the Yeti.
DAY 10 :
Dropping steadily, we pass through Namche Bazar and continue down to join the foaming waters of the Dudhkosi river again. A pleasant walk through the pine forests takes us to Jorsalee.
DAY 11 :
A steady walk brings us to Lukla where we enjoy a farewell with our Sherpa crew.
DAY 12 :
Fly back to Kathmandu.