| | |
| --- | --- |
| Season | Jan-May, Jun-Aug, Sept-Dec |
| Clothing | Cottons & light woolens during summer, warm clothing during winter. |
| Grade | 3, 4+, 4 (Respectively) |


Seti River 2/3 days
This short Seti river is really pleasant, picturesque. This trip offers beautiful mountain views of the Annapurna South, Fistail & Lamjung Himal. This river is also easily accessible from Kathmandu about 4 hours drive & 2 hrs drive from Pokhara.
Day to Day Itinerary:
Day 01: Kathmandu-Damauli
Drive to Damauli on the highway towards Pokhara. About 4 hrs drive to Damauli through the beautiful green landscapes & reach to the spot. Damauli is a small town, the put in point is at the confluence of the rivers Seti & Madikhola. After a Short information from a senior guide about the river safety. This river Seti is smaller river than the "Trishuli" so has smaller but technical rapids. After one hour rafting, have lunch on the bank of the river, then few hrs floating, camp before "Sharang Ghat" for the night halt.

Day 02: After the breakfast, start the rafting. Today one may find the landscape little bit different to the previous day but mostly similar. After passing few rapids & floating down for few hrs, stop for the lunch & start the rafting once again. This time, prepare for a rapid continuous almost for about 1 km. After the confluence of Seti with Trishuli the river becomes Trishuli. Reach to Gaighat & camp there for the night halt.

Day 03: Today the river widens and the scenery is also different, we float sown in between the Canyons. Pass through the confluence of Trishuli & Kaligandaki at Devghat. After the confluence the river is known as Narayani or Sapta Gandaki. After Lunch pass the town called Narayanghat & terminate the rafting.
Tibet Trip
Highlights of this tour include two full days sightseeing of the capital city, Lhasa:......
more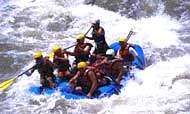 Bhutan Trip

The highlights of this tour are the three Major Cities of Bhutan with its wide open valley....
more
Ultimate Adventure