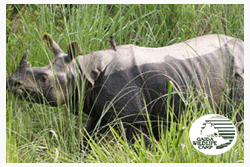 Gaida means rhinoceros. The lodge's name is this, the Asian one-horned rhino. The lodge is located just across the river from the Rhino Zone inside Chitwan National Park. Efforts to save this magnificent creature have resulted in a growing population. Figures now put the Chitwan rhino population of Nepal at around 450.
Rhinos graze in the high elephant grass around the marshy areas of Chitwan. They can be amazingly well hidden.


The Bengal Tiger population of Chitwan is on the rise. Latest estimates put the population at around 105. These tigers are free to roam and are not tagged.

Two varieties of rare crocodile make their home in Chitwan. The Marsh Mugger is a flesh eater that grows up to 12ft (4m). The Gharial (meaning 'bulb') is a giant that can grow up to 18ft (6m). They are expert fishers and have a long slender snout with fine teeth that ends in a bulb shape.
Snakes in Chitwan include kraits, cobra, python, vipers, coral and water snake. Many turtles, frogs and lizards also make their home in the warm Terai region of Nepal.
Bird species found in Nepal are incredible. Nepal's location means 1 out of every 10 on the planet appears here annually. That means over 800 species. Chitwan is a bird paradise with over 500 species in a single valley.
These include birds of pray (vultures, eagles, kites, owls), king fisher, giant hornbill, stork, heron, duck, crane, flycatcher, mynah, dove, crow, drongo, parrot, egret and songbirds.
Mammals in Chitwan account for more than 50 species. The park is famous for the one-horned rhinoceros, tiger, and gharial crocodile. Other endangered species include:
the gaur (wild bison), wild elephant, four horned antelope, striped hyena,
pangolin, gangetic dolphin, monitor lizard, and python.
Other animals in the park are the sloth bear, languor and rhesus monkeys; wild dogs, golden jackal, wild boar; mongoose, marten, ratel, 5 striped and flying fox squirrels, and palm civets.
Butterflies in Nepal number more than 600 species. The monsoon season is the best time to view them for numbers and varieties.
The firefly, a nocturnal beetle, enchants by night. Their dancing lights around the lodge and tented camp are mesmerizing.
The Asiatic Elephant, are superb for transport in the jungle. Chitwan's wildlife, especially the rhinos, thrive in the high grass around the river. Elephant-back safaris make viewing all animals, even within the grasses, possible and exciting. Gaida Wildlife Camp maintains its own group of elephants. They can be ridden, photographed, fed, bathed. Visitors can even explore their home or take part in an elephant training program. Each has its own personality. A staff of at least 3 people looks after each elephant.
Tigers, leopards, panthers are Nepal's main felines. These cats are all elusive but often visible in the park. They inhabit the dryer lowlands and hills. They can be found in the woods or along the tree line adjacent to the river.
Other felines around Chitwan include the fishing cat, leopard and clouded leopard. The fabled snow leopard of Nepal is only found in the higher Himalayas.