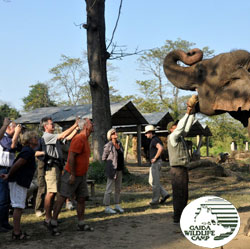 Year Round Activities – There are elephant back safaris, dugout canoe excursions, jungle drives, nature walks, butterfly tours, birding tours. Treks to the Churia range, observation from tree tops, cultural tours, slide presentations and folk dances are also offered.
High Season at Gaida Wildlife Camp is from September to May. The weather is pleasant with little rain. Mornings are usually foggy, clearing to bright skies and sunshine but the nights are cool. From December to February it can get quite cold (Lowest 38º F/4º C) in the evenings. Sweaters or jackets over light clothing are necessary for this cold.
Low Season is from June to August. In this monsoon season, the wildlife remains undisturbed. It is as equally present and visibleas in the High Season. The days can be hot (Highest 97º F/36º C) and humid. Gaida Camp has air conditioners and air coolers. It is the only resort in the Chitwan National Park to have them. These ensure a pleasant stay even during this hot season. Light clothing is needed in these months.