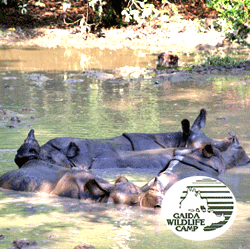 Flight
- A 15 minute flight from Kathmandu to Bharatpur airport and a 40 minute drive to Gaida Wildlife Camp.
Road - A scenic and enjoyable access is by road. The four hour drive along the banks of the Trishuli river is delightful. It goes past terraced fields, small villages, people of diverse ethnic origins.
Raft - A raft trip of varying lengths on the Gandaki, Trishuli or Narayani rivers. Met by Gaida representatives visitors reach Gaida Wildlife Camp after a short drive.
What to Bring- Camera, sunblock, sunhat, sunglasses, mosquito repellant, and warm clothing (Nov to Feb). Bring also a flashlight (torch). Cool cotton clothing of neutral color (to match the jungle) is recommended. No scented perfumes should be worn inside the park. Long sleeves and trousers are necessary for elephant back safaris.