In the beginning there was a river, The river became a road and branched out to the whole world. And because the road was once a river it was always hungry.
Ben Okri

Perhaps the most important thing: 15 years experience running professional river expeditions in Nepal and world-wide. In the last eight years of operation in Nepal we have run every commercial first descent of rivers in Nepal. We run high water trips on all Nepal's wild rivers and this experience shows in all we do.
Expedition elements include professional guides and leadership, private ground transportation, porters and permits.
Tasty and carefully prepared western meals, rum punch, tea, coffee and snacks. We always offer a vegetarian option and can cater to special diets.
State-of-the-art Equipment: self bailing rafts, lifejackets, helmets, wetsuits on certain rivers, dry bags for gear, tents, and camera barrels.
Not included are bottled/alcoholic beverages, any kind of insurance, visa costs, and expenses of a personal nature.

Personal Equipment: The less luggage you have to carry around the more you will enjoy yourself. Clothing should ideally be light weight, dry quickly, and provide insulation even when wet. Synthetic fibres are preferable to cotton on the river for this reason. Here is a fairly extensive to serve as a guide…
For Camping and Travelling
A sleeping bag and pad. Your sleeping bag should be a two to three season bag, either down or synthetic filled. A foam pad or Thermarest sleeping mattress is mandatory for a good nights sleep. For those who do not have a sleeping bag and pad, they can be rented easily in Kathmandu or Pokhara for about fifty cents a day.
Lightweight pants.
Cotton underwear.
Light weight long sleeved shirt or T-shirt. We use these as sunscreen in camp....don't worry about getting enough sun, you will.
A fleece style jacket. Polypropylene or wool is preferable.
Toiletries: keep it to a minimum, and forget the cosmetics...., you won't have a chance to use them. Bring plenty of moisturising lotion.
Spare glasses or contact lenses if you wear them.
Flashlight or headlamp with spare batteries.
Water-bottle
River Wear
River sandals like Teas or Alps are the preferred footwear on the river. It is essential that all rafters have footwear that they can wear in the raft which will not come off in the event of a swim , as this is considered standard safety equipment. Old running shoes will also do.

Shorts or a swimming costume.
A sarong for women (a long piece of cloth wrapped around your waist) is another good option, and can be purchased cheaply in Nepal. This is invaluable for visiting villages and respecting local custom for dress.
A baseball style cap and good sunglasses are absolutely essential. Sunglasses should be equipped with a retaining device to keep them on your face where they belong.
Sunscreen (spf 15 or or greater and waterproof) is essential DON'T FORGET LIP BALM, SPF 15 MINIMUM!
For Trekking (Karnali, Marsyangdi and Tamur Expeditions)
A day pack for the trek to the river.
Long sleeved thermal top and bottoms (long underwear).
Light and medium weight weaves are the handiest.
Walking shoes or light weight hiking boots are a must. People who are used to walking long distances over uneven terrain will do fine with light hiking shoes or even running shoes. Some of the guides will do the trip in Teas, but if you saw their feet, you'd opt for better footwear. Heavy mountaineering boots are more of a burden than a blessing.
Toilet paper and a lighter- nice to have a spare.
Optional Items
Small binoculars for wildlife viewing in the national parks.
Camera and film. Also bring a good cleaning kit, as field conditions are harsher than in towns. Spare batteries are also handy.
Fishing equipment.
Walk/Discman and tunes.
Reading and writing material.
Personal first aid kit.
Perhaps the most important thing you can bring is a good mental attitude...
Personal Spending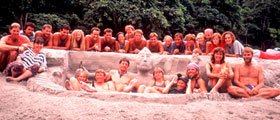 There is not a lot you can buy on a river in Nepal, bearing that in mind you will not need to take much in the way of money, say 500-1000 rupees (US$15). We'll fill you in on the beer kitty when you get here. Chocolate, sweets and cigarettes are seldom available anywhere on the rivers; so bring a few treats for yourself, they can be great bargaining chips for that massage you may need on the layover day...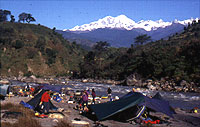 There are no rules to running rivers other than those dictated by common sense. To enjoy and learn, the participants need to be flexible and adaptive in changing situations. With this in mind here's what we normally plan on any river journey...
We rise at dawn with the sun and wander to the campfire where a huge pot of coffee is waiting. After a hearty breakfast and loading the rafts, we start rafting. We try to get on the water by around 9am. On the river you'll paddle hard through the rapids and cruise in between. On any of the larger volume rivers you could safely say about 30 percent of the time is spent running rapids and 70 percent cruising.
The day's rafting is punctuated with a leisurely lunch break around midday, as well as stops to scout the more challenging rapids, explore temples and villages, waterfalls and other interesting sights. The length of time spent rafting is directly related to our choice of spectacular campsites. Typically we are on the water 4-6 hours each day.
We get into camp around 3-4pm in the afternoon and there is plenty of time to explore and relax. On longer trips there is always a layover day built into the itinerary, a chance to do as little or as much as you wish. These areas are also difficult to get to... it would be a shame to end up rushing.

Evenings are spent around the campfire, drinking hot spiced rum and getting to know the people on the trip. Food is communally prepared, every day a different raft crew helps with the simple preparation of vegetables. The kitchen becomes one of the main social points on the trip, and without a doubt the best place to catch up on the latest gossip or get to know someone better..."Gut that chicken for you, mam?"
After a few days on the river, time has little meaning, river times takes over. Having played hard all day, it's often a surprise to look at your watch before going to bed to find it's only 8pm, whereas you were sure it was closer to 10. The next day we begin all over.

Longer expeditions have the advantages of offering some real heart thumping whitewater with the incredible journeying aspect of a long river trip. With more time on the river, things are more relaxed, relationship progress at a more natural pace, and memories become firmly entrenched for a lifetime. Long after the whitewater has blurred into one long white-knuckled thrilled ride, the memories of a moonrise over the river and the friends you inevitably make will remain.
Nepal, for all it's massive mountain peaks and impressive geography, is actually an incredibly fragile environment. At Ultimate Descents our lives have revolved around the free flowing river. We feel an increased responsibility to protect and preserve these wild places. Not only do we leave every campsite cleaner than when we've arrived, we've taken steps to protect Nepal's rivers and the people who live along them.
If you would like membership information on the Nepal River Conservation Trust (NRCT) or like to join our yearly trip in September to support eco-conscious tourism along Nepal's rivers, simply contact us here.

At Ultimate Descents, we take safety very seriously. It is our first and never forgotten priority, and it shows. We employ some of the best rafting guides in the world. These men and women are whitewater professionals, trained in CPR, emergency wilderness first aid and swift-water rescue. Safety kayakers accompany each expedition and can get a person out of trouble faster than anyone else.
Equipment is another element of of being prepared for anything. Rafting, like flying, scuba diving or safe sex, is intrinsically dependent on using the most advanced and reliable equipment. We use the best rafts, flotation devices, helmets and paddles available.
You can help us by doing your part as well. Listen to your guides and take safety seriously.