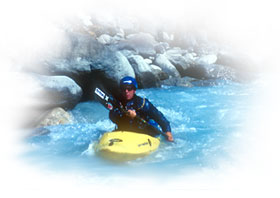 Kayaking
Ultimate Descents Nepal staff are expert kayakers and instructors and they are always willing to share their enthusiasm and expertise. We encourage advance kayakers to join any of our trips. There is always an expert, safety kayaker along on any expedition so you need not worry about being alone on the river. You won't!
Learn to Kayak…
Ultimate Descents Nepal run a series of Kayak Clinics each season on Seti River. These introductory courses are designed for those with little or no previous kayaking experience. The thrill and gratification of learning to kayak in the Himalaya is a great start to kayaking. Throughout the 4-day clinic, you will cover all the basic skills including paddle strokes, Eskimo rolls, Eskimo rescues and the art of reading whitewater. The priority is safety, not forgetting however the joys of a more intimate relationship with the magical Himalayan Whitewaters!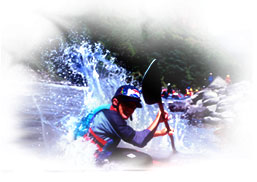 Our instructors are some of the best whitewater paddlers and kayak instructors in the world with a strong history of running rivers worldwide. The clinics are supported by state of the art rafting equipment, which carries all personal gear, camping and other supplies down the river to our campsites.
The Seti River is one of the most beautiful and pristine rivers in the Himalayas. With dense remote jungle, exquisite sandy beaches and class II - III whitewater runs, perfect for beginner kayakers
MAKE/ MODEL

Eskimo Cando
Perception Phat
Pyranha Blade
Prijon Fly
Prijon Hurrican
Dagger Gradient
Dagger X-Fire
Perception OverFlow
Wavesport Lazer
Lattmann Rage
Niky Jive
Dagger Response
Prijon Rocket
Dagger Vertigo
Dagger Freefall
Pyranha Stuntbat
Prijon Invador
Perception Sit on the top
Perception Piroutte S
Eskimo Diablo
Prijon Tcanon
Prijon T-slalom
Dagger Freefall LT
Perception Super sport
| | |
| --- | --- |
| River | Kayak Clinic ~ Learn to Kayak with Professionals |
| Days | 4 |
| Class | II to III |
| Cost (US $) | 250 |
Cost includes: All meals, transportation to the put in point and back from the take out point, all kayaking equipment and accommodation on twin sharing basis.
Cost does not include: Sleeping bag/ mattress, alcoholic beverages, personal expenses and insurance.

Spring 2006

02 Feb. – 05 Feb.

09 Feb. – 12 Feb.

16 Feb. – 19 Feb.

23 Feb. – 26 Feb.

02 Mar – 05 Mar

09 Mar – 12 Mar

16 Mar – 19 Mar

23 Mar – 26 Mar

30 Mar – 02 Apr

06 Apr – 09 Apr

13 Apr – 16 Apr

20 Apr – 23 Apr

27 Apr – 30 Apr

04 May – 07 May

11 may – 14 May

18 May – 21 May

25 May – 28 May

01 June – 04 June

08 June – 11 June

15 June – 18 June

22 June – 25 June

Fall 2006

07 Sep – 10 Sep

14 Sep – 17 Sep

21 Sep – 24 Sep

28 Sep – 01 Oct

05 Oct – 08 Oct

12 Oct – 15 Oct

19 Oct – 22 Oct

26 Oct – 29 Oct

02 Nov – 05 Nov

09 Nov – 12 Nov

16 Nov – 19 Nov

23 Nov – 26 Nov

30 Nov – 03 Dec

07 Dec – 10 Dec

14 Dec – 17 Dec

21 Dec – 24 Dec

28 Dec – 31 Dec
* Medium high flows.
** Due to pre-monsoon storms and snowmelt, expeditions at these times will be high flows.
*** With monsoon season, the river gets wild and very high, so expect more challenging rivers…