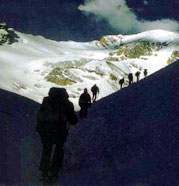 TREKKING
Nepal is no doubt blessed with the most marvelous and impressive walking country on earth. Trekking is the only way to travel if you really want to see a country, contact with wild and dramatic landscapes and the fascinating people who live there.  Famous are the Annapurna, Everest and Central Region that offers you a wide variety of trekking routes.  
The diverse terrain and variety of cultures of the region make Annapurna the most popular trekking area of Nepal. The trade route of Kali Gandaki in between Annapurna and Dhaulagiri is the deepest and cultural variety of Hindu communities famous Gorkha soldiers and fortress styles  villages make each days walk a different experience.
Mt. Everest, known as " Chomolungma" Mother Goddess of the world" or Sagarmatha – "Top of the universe" boasts some of the world's hightest mountains such as Lhotse and Nuptse. The region is also the home of the Sherpas and out post of Tibetan Buddhism with its many fascinating Monasteries. More than 200 peaks higher than 6000m are concentrated in this region
Central region of Nepal is the next, dominated by two big moutains, Ganesh 7163 m and Langrang 7205m. Langtang valley is considered as one of the most beautiful valley and the people here are mostly Tamangs.
MOUNTAIN BIKING

Ultimate Descents Nepal works together with Himalayan Mountain Bike to get you what you want.  For one day or one month you can pick your own level of biking adventure.   Bike through the mosaic and wildly diverse terrain of  Nepal.  You can also take a mountain bike  tour  through Tibet, Ladakh, Sikkim, Thailand, Loas, Bhutan, India, as a customized package.  You can pick between one day tours through the Kathmandu valley or push the peddles for 24 days to Lhasa, Tibet., and anything in-between can be arranged. 
All tours include 1997 Bianci MTB's with suspension, helmets, water bottle, guide, accommodation and meals, permits, mechanic, first aid- support, transportation, and a certificate. 
Another option for mountain biking is from the Borderland Resort just 16 kilometers from the  Tibetian border. Tours are concentrated mainly in this jungle like  region
BORDERLAND'S CANYONING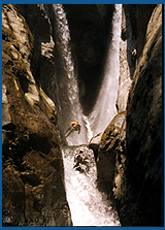 The Borderland Resort is surrounded with countless waterfalls and deep canyons.  With highly trained instructions, climbing equipment and a sense of adventure you will descend down these beautiful but forbidding places.  A new sport geared to the Ultimate sports-enthusiast, it involves abseiling, sliding, jumping and climbing down steep canyon walls along side waterfalls to deep pools. As many true adventure seekers have discovered, the most exciting spot for swimming begins at the edge of a 45m waterfall.  Once on the ground, we rest on a pebble beach within the canyon walls, then the journey out begins.  We swim into narrow passages, through powerful blasts of water, past wild rock formations.
Apart from all the fun and games, this sport required the guidance of an expert.  Our instructors are experienced canyoneers and believe that the practice of safe canyoning necessitates the proper gear, continual vigilance and good knowledge of the aquatic environment.
JUNGLE SAFARI

Experiencing wildlife safari while in Nepal has been like a traveler's delight. The extreme geographical diversity of Nepal provides a wealth of flora and fauna unlike anywhere else in the world. Travelling south to the Royal Chitwan National Park, the wildlife in this beautiful natural preserve is abundant. One horned rhinoceros, gaur ( wild oxen) , gharial and marsh mugger crocodiles, sloth bear, langur, chital and majestic bengal tiger are what one would be able to view during their visit to this pristine land. Exploring further through the villages and the farmlands of our terai region, you would come across yet more magnificent Royal National Bardia Park situated at the heart of west Nepal's remote but undisturbed wilderness. The uproaring Karnali River flowing through the middle of this park, and the riverine forests and grasslands fed by its water are home to 32 species of mammal and some 250 bird species. Bardia is undoubtedly a majestic and unspoiled land of wildlife which provides for a high possibility of big game wildlife viewing, including Royal Bengal Tiger, Wild Elephant and rare Gangetic Dolphin.
SIGHTSEEING
We can help you explore the World Heritage Sites around Kathmandu  and Pokhara depending upon your time frame and interest.  Sightseeing can be organised for either half day (3 hours) or full day (6 hours) or even for multiple days.  Kathmandu Durbar Square, Bhaktapur Durbar Square and Patan Durbar Square are famous for their years old architecture while Swayambhunath, Boudha, Budhanilkantha and Pashupati are categorized religious.  Side tour to  Nagarkot or Dhulikhel, nearly two and a half hours drive from Kathmandu promises you a spell bounding view of wide range of Himalayas on a clear day…
Tibet
For centuries, Tibet has fascinated mankind. Tibet has been, and will continue to be one of the world's most fascinating destinations. This rugged, barren land that rests just beyond the mighty Himalayas, is situated on the highest plateau in the world. Tibet offers the most diverse and dramatic scenery, as well as spectacular views of this amazing mountainous region.
Ultimate Descents Nepal is excited to offer this exclusive Tibetan Tour. Working in conjunction, our highly experienced travel agents and Tibetan guides will arrange your Tibetan holiday, thus making it a truly unique and rewarding experience... ..
Email:
udnepal@visitnepal.com
Ph: (977-1) 4701295 or 4426329 Fx: (977-1) 4701933
P.O. Box 6720
Kathmandu, Nepal