Bhojan Griha - The Exceptional Cuisine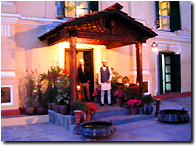 It is an old four-storied of bygone era, painstakingly restored and converted into one of the finest and the largest Nepali Restaurant within heart of Kathmandu City - Dillibazar.
The 'Basantapur Baithak' (first floor) has roomy 60-seat capacity for those who cannot squat Nepalese way as it has table and chairs and you can sit in western fashion. The 'Putali and Kantipur Baithak' - the second and third respectively demands that the shoes be taken off and the hands washed before squatting on the colorful cotton cushions.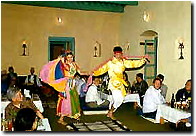 The exceptional cuisine, which is served in informal relaxed setting, is tasty, wholesome and typically traditional. The restaurant offers Nepalese delicacies on fixed menu as well as a-la-cart served in conventional brass utensils.
Apart from traditional 'Wining & Dining' Bhojan Griha offers a delightful insight into Nepalese culture with the music and dance of various ethnic groups. They also cater and host weddings, Birthday and special dinner parties of all occasions and events.
related topics
other topics viewed by visitors