more topics..
other destinations..
quick links..
Tibet Tour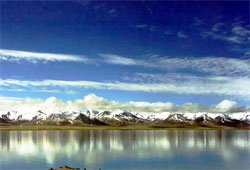 Tibet, the biggest, highest and youngest plateau in the world is a land of snow capped mountains, beautiful palaces, monasteries, holy lakes and friendly people. Lhasa (Holy-Land) is the capital of Tibet.

The Jokhang, Drepung, Gandan and Sera monasteries boast of magnificent architecture while the Tibet Museum is also quite a place to visit. Norbilingka is a beautiful park that used to be the summer palace for the Dalai Lamas. Similarly, holy Lakes like the Manasarovar and the Namtso hold great religious beliefs. August and September is the best time to travel to Tibet while you can visit Lhasa all year round due to the suitable climate there. Over the years, many tour itineraries have been developed, ranging from 3nights/4days trip to 21nights/22days trip. And it depends on the days you want to spend in Tibet that decides which places to visit. However, one of the ideal tours would be the 6nights/5days trip.

You can go to Lhasa from Kathmandu via road. The 970km drive from Kathmandu to Lhasa is full of exciting and new experiences. The road is poorly constructed and can be quite tiring. And at some points altitude sickness is very likely. On route to Lhasa, hotels are limited and facilitated with only basics. You can also fly to Lhasa from Kathmandu.

The first day of your trip is the flight from Kathmandu to Lhasa. The flight will provide you with an opportunity to view the Himalayan Peaks. You will land at the Gonggar airport in Lhasa and check into a hotel for the night.

The second day is spent on sightseeing. The Potala Palace in Lhasa is one of the highlights. For the Tibetans, the palace is a symbol of wisdom and power. The palace, with its 11,000 ounces of gold plating and inlaid decorations in diamonds, corals, pearls and other valuables, is 14m high. While in Lhasa you can also visit other nearby places. Spend the night in Lhasa.

The third day of your trip is a 240km drive from Lhasa to the Sky Lake (Namtso). You can have a spectacular view of the mountains before returning to Lhasa for the night.

The fourth day is a winding and bumpy road trip to Yamdroktso Lake and Shigatse Lake. Spend the day in acclimatization and stay overnight at Shigatse.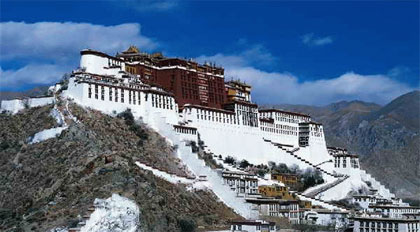 On the fifth and final day of your trip you can visit the Tashilhunpo monastry with its shining gold tops. You can spend your day at the monastery and experience peace and tranquility. Drive back to Lhasa for an overnight stay.

On the sixth and last day of your tour, fly back to Kathmandu and enjoying the flight over spectacular mountain range.
If you would like to know more about this trip...
related topics
other topics viewed by visitors