more topics..
other destinations..
quick links..
Kathmandu Valley Trek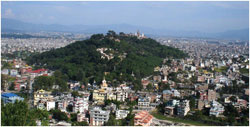 Amongst many fascinating treks around the Kathmandu valley, a five day package trek of Kathmandu-Shivpuri-Chisopani-Nagarkot-Bhaktapur-Kathmandu is the most popular of all.

Start your tour with a drive to Budhanilkantha, just 10kms from Kathmandu. Situated at the base of Shivapuri hill, the Budhanilkantha or the image of Lord Bishnu is over 1000 years old. Reclining on a bed of snakes in a 13m (43ft) long water tank, the deity itself is about 5m (17ft) long. The kings of Nepal as well as non-Hindus are not allowed to visit the temple for religious purposes.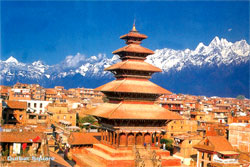 A little further up is the ISKCON (Hare Krishna) temple. Walk past the temple to enter the Shivpuri Park. Established in the year 1976 as a wildlife reserve, the Park is a popular bird watching spot. You can spend a night at the park camping and don't miss the early morning view of the sunrise from the park before continuing your journey to Chisopani.

The second day trip from Shivpuri to Chisopani is a 45mins uphill climb. The trail passes through a forest and once you reach Chisopani you can see the Kathmandu valley down below. And when night falls, you will have to camp one more time.

The fascinating trip from Chisopani to Nagarkot, on the third day, is through Sundarijal. Situated at an altitude of 2,175m from the sea level, Nagarkot is a beautiful hill station and the best choice to spend a night or two. Accommodation is the last thing you have to worry about while in Nagarkot and you can spend your day taking a stroll in the surrounding areas.

The morning of the fourth day at Nagarkot will start with breathtaking views of the mountains from Dhaulagiri in the west to Kanchenjunga in the east including the Mt.Everest. There are many trekking routes from Nagarkot and one of the best could be a walk down to Bhaktapur. Known also as Bhadgoan, and one of the major cities of the valley, Bhaktapur is rich in art and culture. It's a very clean and quiet city with a great historical background. While in Bhaktapur, you can tour around the city, get a taste of the exotic cuisine or visit the temples, shrines and the museum.

The fifth and final day of your trek is the return journey from Bhaktapur to Kathmandu.

The five day trek of the Kathmandu valley will surely fill you with unforgettable experiences and memories.
If you would like to know more about this trip...
related topics
other topics viewed by visitors