more topics..
other destinations..
quick links..
Jomsom Trek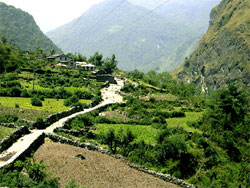 The Jomsom trek falls under the Annapurna Circuit trek, the most popular trek in Nepal. Starting from Pokhara, the Jomsom trek takes about a week with Muktinath as its final destination. The return journey back to Pokhara can either be made on foot or via an airplane.

Start your trek on the first day by taking a ride from Pokhara to Naya Pul. From Naya Pul you can take a short walk up the Modi River. And from Modi River go to Birethanti. From Birethanti you can follow the trail to Hille and Tirkedhunga. Spend the night at Tirkedhunga and prepare yourself for the uphill climb to Ghorepani the next day.

The steep trail from Tirkedungha, on the second day, will reach you to Ulleri, a Magar village. The trail further continues through forests to Ghorepani. The trail from Ghorepani also goes to Ghandruk but you have to go towards the Poon Hill past Deurali. From Deurali you can get a spectacular view of the mountains. Spend the night at Ghorapani.

The trail from Ghorapani is downhill and after crossing the Ghar River and the Kali Gandaki you will reach Tatopani on the third day itself. Tatopani (hot spring) is a place to relax and the place offers good food and accommodation as well.

The trail from Tatopani to Kalopani, on the fourth day, is very steep. It is through the trail with the Dhaulagiri Mountain to your left and the Annapurnas to your right. You will have to pass through gorge, waterfall, forest and a Thakali village before finally reaching Kalopani. But with the great mountain views from Kalopani you will consider the walk all worth trying. Spend the night at Kalopani.

On the fifth day, the walk from Kalopani to Marpha, also passes through villages, gompa and breathtaking mountain views. Marpha is a village behind a ridge and the apples of Marpha is a must eat. Make an overnight stay at Marpha.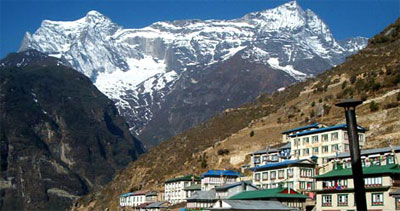 From Marpha, on the sixth day, you head towards Jomsom, the biggest town on route. Once in Jomsom, it is always a great idea to follow the trail along the river to Kagbeni.You can spend a night at Kagbeni before you head for Muktinath.

The trail from Kagbeni to Muktinath, on the seventh day, is steep and has to go past meadows, streams and the Jharkot village. Muktinath is a pilgrimage site with great religious significance. Muktinath if often the goal of the Jomsom trek. And this is where your Jomsom trek comes to an end.

From Muktinath you can either retrace your steps to Pokhara or go back to Jomsom to catch a flight to Pokhara.


Explore more trips..
if you would like to know more about this trip...
related topics
other topics viewed by visitors