Success Stories of Nepalis in USA


Robin Bhandari - a man with a gift of gab in Burtonsville, Maryland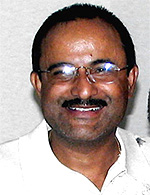 Mr. Robin Bhandari has a confident and dashing voice that resonates with high amicability making you feel comfortable and relaxed. People admire him for his mingling persona.
Born to father Siddhi Ram Bhandari and mother Shanti Bhandari 46 years ago in Ranipokhari, Kathmandu, Mr. Bhandari is the youngest sibling in the family. Like himself well settled in USA with his wife, a son and a daughter, his brother and sister are settled in New Zealand and Australia with their families.
Godfather & Inspiration
"What I am today, it is all because of my godfather", says Mr. Bhandari when he talks about Mr. Sharad Amatya. Mr. Amatya who inspired him to get into travel trade profession himself was the first Nepali to work in the first travel agency "Shah and Rai" in Kantipath, Kathmandu which was later named "Third Eye Travel & Tours".
He feels equally proud when he speaks about his parents who brought him into this world and his godfather who shaped up his life. He says his godfather instills him even today.
Mr. Bhandari began his career in 1979 with Trans World Airlines (TWA) and Cathay Pacific. Soaltee Hotel Limited was the General Sales Agent (GSA) for those airlines then and this gave him the opportunity to work under Mr. Prabhakar Rana, a reputed personality in Nepal, whom he terms as the best boss in the world.
First job in Nepal – Ultimate career in USA
Mr. Bhandari is a fortunate man who has been able to stick to his one and only profession since 1979. His first job in Nepal also happened to be the last when he left his home country in 1991. The same occupation later became his ultimate career in USA.
He came, he saw and he conquered – that was exactly what he did after coming to USA in March 1991. His zeal and enthusiasm prompted him to apply for a post in a travel agency advertised in "Washington Post". It was his 20 days in USA then. He tried his luck and the lady luck smiled upon him and he got the job, H1 status and ultimately the Green Card from the job where he worked as the Manager for 5 years. He was so excited with his initial accomplishment in USA that he thoroughly enjoyed the first six months of his job commuting to his workplace changing 4 buses spending 3.15 hours everyday until he got his first car. He still loves to ride buses and whenever he gets time off from his seven days a week grind, he goes for it to recollect the old memories.
After working for a couple of other travel agencies in the US and with the support of his wife Sarmila Bhandari, he finally opened his own travel agency "Peaceland Travel & Tours" in October 1997. He says it was a risk he took quitting a well paid job and until his travel business got into full swing and stability, he worked as a part time check-in-agent for US Airways. But his hard work and his faith on himself sashayed out with flying colors and within a short span of time his efforts started to bear fruits. Apart from the ethnic Nepalese, the corporate group and the university students visiting Nepal on short study trips rely on his travel agency for their hassle free travel to Nepal.
With the success of his clientele service – the travel agency, he has got his hands into retail business too. He has been running a gas station since February 2004 and still intends to branch out his travel agency in other states as well.
And if stability comes back, he hopes to establish a travel and tourism business in Nepal. He prays peace comes to Nepal soon for the sake of the real and needy Nepali people. He is saddened by the way the Government has been talking about peace without a peaceful resolution.
America – a Gold Mine
Mr. Bhandari has his own philosophy towards attaining success in the US. He terms America as a true gold mine and the way to it is through sheer hard work and honesty. He believes in believing in oneself and putting ones heart and soul in whatever one does sticking to ones own morality. "With this we create our own destiny and success successfully comes along with struggle", he adds.
He encourages the young generation to explore the ample opportunities US has to offer. He insists on being practical. "US is such a country where opportunity comes and knocks your door if your exploration is done the right way" concludes charitable Mr. Bhandari who believes in charity for a good cause.
By Binita Joshi Shrestha
Write to us and be a part of the success stories.
related topics
other topics viewed by visitors