Nepal's Rivers - Check Back for Updates Monthly!
Inquiry Form ~ Home Page
---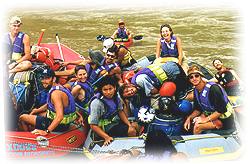 Bhote Kosi - Adrenaline Junkies (2 Days)
Nepal's most challenging short river trip, the Bhote Kosi has continuous big rapids and non-stop thrills. Passing through steep canyons and gorgeous scenery, this is the river for 2 days of full on - flat out white water action.
Trisuli - Monsoon Thriller (2 Days)
Fun and challenging during high flows with a good mixture of continuos rapids and pleasant calm water. Great camping on sandy beaches along exotic jungle forests.
Seti - Family Trips or Kayak Clinic (3/5 Days)
This picturesque trip offers plenty of small friendly rapids. Beautiful jungle scenery with excellent camping beaches on the river banks. Perfect for those with limited time who want a taste of rafting. An ideal trip for families and beginner kayakers.
Marsyangdi - Jewel of a River (6 Days)
A one day trek through remote Gurung villages leads us to the Marsyangdi. One of the most challenging white water rivers in the world. Enjoy magnificent views of the Himalayas, as we work together to run these non-stop, exhilarating, steep and technical rapids. Check out, Marsyangdi Madness - you'll see what we mean.
Sunkosi - The River of Gold (8/10 Days)
Far away from roads and towns. This river offers big and exciting rapids. Find yourself crashing into mountain waves, while passing through breath-taking scenery with excellent camping beaches. Observe first hand, local Nepali village life, as you view continuously changing landscape. This is Nepal's longest river trip and rated in the top ten best river trips in the world. Don't miss this one!
Tamur - (12 Days) - Contact us for details
Karnali - One of the Best Fishing River's of Nepal (12 Days)
Nepal's longest and largest tributary of the Ganges, rises in Tibet near Mt. Kailash. Definitely a world classic combination trip for trekking, white water rafting and wilderness exploration. All rafting equipment is carried by porters as we trek to the river through one of the most remote parts of Nepal. Remarkable pristine jungle scenery with canyons, deserted beaches and small villages. A continuous series of increasing rapids, with waterfalls along one of the best fishing rivers of Nepal. The Karnali eventually passes through the Royal Bardia National Park to join the Ganges in India - we'll pull you out before then.
Thuli Bheri - Kayak Expedition (23 Days) - Contact us for details
Kali-Gandaki - Heard about the big dam(n) project? - Contact us for updates

---
Conservation - Not just a buzz word, but a real company philosophy
The increasing population of the world and the impact of unregulated tourism is rapidly destroying the natural environment and cultural heritage of Nepal. Because our guides are Nepali, and nature is their home, Exodus Outdoor Enthusiasts strives to protect Nepal's beautiful riverine environment by minimizing our impact on Nepal's rivers, land and its people.
We run our journeys with total respect for the natural environment and cultural heritage of Nepal, leaving behind nothing but our footprints. We request your full co-operation in helping to preserve Nepal's beautiful natural resources, of which we are so proud.
Let Nepal change us. Let us not change Nepal.
We'd love to tell you more… just drop us a line.
www.visitnepal.com/exodus
---
Presented by VisitNepal.com - Travel Information Network
Copyright 2003 - All rights reserved.