JUNGLE SAFARI

Nepal's best-known and most accessible national park, Royal Chitwan, was also its first. Established in 1962 by the late King King Mahendra as a rhinoceros preserve, and officially gazetted in l973 to enforce laws against poaching, it is situated in the Rapti Valley about 120 kilometres (75 miles) southwest of Kathmandu. It covers an area of 932 square kilometres (360 square miles) of floodplain jungle and elephant grass at an elevation of about 150 meters (492 feet) above sea level.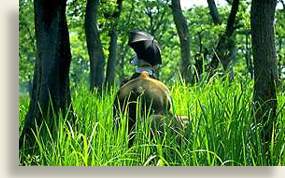 During a visit to the Royal Chitwan National Park, trained naturalists lead visitors on safaris (by foot, elephant, land Rover or boat) to search for tigers, rhinos, crocodiles, and colourful bird life.

Other animals in Royal Chitwan that visitors are likely to see include leopards, gaurs, buffaloes, sloth bears, wild boars, various species of deer, and marsh mugger crocodiles. Smaller mammals include langur and rhesus monkeys, jungle and civet cats, mongooses, jackals, otters, martens, porcupines and squirrels. River dwellers include the Gangetic dolphin. Other species are the pangolin, rattler, python, king cobra and Bengal florican. More than 400 species of birds have been identified, making Chitwan a paradise for bird-watchers.