The remote area of Kangchenjunga in far-eastern Nepal sees very few trekkers and has no teahouses or inns. This area offers the cultural diversity of Rai, Limbu, Chhetri and Brahmin villagers, with the higher regions inhabited by a people of Tibeto-Mongoloid ancestry. This trek also has great natural history interest, with ecological zones from the subtropics to glacial wilderness. We go into spectacular high valleys encircled by high peaks, reaching North Base Camp by the mighty Kangchenjunga Glacier

Itinerary: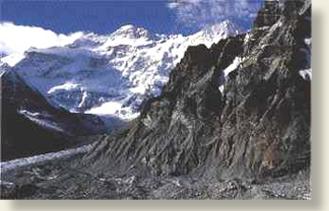 Day 01-12 Kathmandu-Biratnagar by scheduled flight. Over night in hotel. Next day drive to Basantpur and begin trek to Ghunsa. Acclimatization and local exploration day in Ghunsa. We spend a well-earned rest day in Ghunsa with local exploration.
Day 13-15 Continue up the Tamur Valley, with views of Yalung Glacier, Kabru Dome (21,648'), and Kabru (24,078') along the Sikkim border. Pass directly beneath Phole (21,795') and Kumbhakarna (25,288') and walk along Kangchenjunga Glacier to reach the North Base Camp at Pangpema (16,613').
Day 16 Rest day to explore and enjoy the splendor of literally dozens of peaks over 20,000' along the Tibetan and Sikkim borders; beautiful glaciers and stunning close ups of Kangchenjunga (28,168'), the world's third highest peak.
Day 17-23 We retrace our trail, with variations wherever possible, to Taplejung.
Day 24-26 We now take a rugged drive to Ilam. The next day we drive over metalled roads to Bhadrapur for our scheduled flight to Kathmandu.