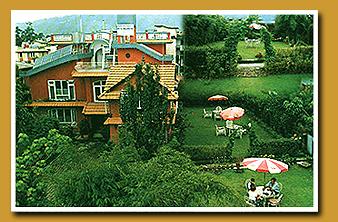 Hotel guest can take advantage of free transportation to and from the airport, and use the hotel's bicycles free of charge during their stay.
Our receptionist will be happy to provide travel information arrange car hire and sightseeing, tours trekking permits and assist you in obtaining visa extensions, airline tickets and in the reconfirmation of flights. We also provide e-mail, Internet and fax services.
The hotels restaurant opens at 7 am and closes at 9 pm and offers our guest a delicious comprehensive choice of freshly prepared foods to suit most palates including: Chinese, Indian and Italian foods as well as local delacies. Guests with a special dietary requirement should let the restaurant manager know, who will try to facilitate the requirement.
We offer a 24hr room service.
Garden ...
Guests can relax in the comfortable chairs, take their meals and sunbathe in the Melungtse hotel beautiful peaceful garden stocked with a wide range of flowers including perfumed roses, a real respite from the downtown "hustle and bustle" of Kathmandu.