Walking about 5 to 6 hours a day is required even on easy treks. Then it is necessary for you to be in reasonably good shape. For those who have a medical history of cardiac or pulmonary difficulties, it is required that they get a physician's clearance and even to attempt difficult or high altitude treks.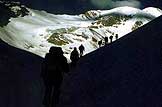 Preparing for a trek also requires mental preparedness. Few trekkers realize the importance of being mentally prepared for a trip into the unsophisticated hinterlands of Nepal. Due to this the attitude of people they meet on the trek with a completely different set of values comes on as a shock sometimes. It is therefore necessary to rid oneself of all preconceived notions and take encounters with people and circumstances as they come.
EQUIPMENT
We provide two-men tents, inner-sheets, thermal mattresses, foam and other items. The basic furniture required like the chairs, mess tents, toilet tents, etc. are also provided. You will be required to bring your own personal items along such as:
Footgear: Boots, socks-nylon thermal (3), socks-light cotton, sleeping-bag.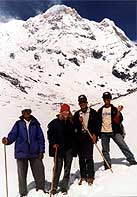 Clothing: Down jacket, wool shirt or sweater, nylon wind pants, long underwear, nylon wind-breaker, warm-up pants, hiking shorts for men, poncho, wool hat for balaclava, underwear, down filled pants, sun hat, gloves, gaiters, cotton or corduroys pants (optional) T-shirt cotton for men (2 changes), blouses for women (2 changes).
OTHER EQUIPMENT
Large duffel bag with lock, rucksack, water bottle, small duffel bag or suitcase for your city clothes, goggles or sunglasses, flashlight, batteries and bulbs, sun cream for lips.
ADDITIONAL ITEMS FOR COMFORT
Insect repellant, toilet articles, shampoo, laundry soap, small knife, length of parachute cord, soap, toothpaste, towel, medical and first aid kit, sewing kit and umbrella.
FOOD AND WATER
We take maximum care of hygiene while preparing meals that are served during a trek. Canned food is served when and only when it is unavoidable. Drinking water straight from the tap, tea-shops or streams is advised to be strictly avoided. Although boiled water has been the standard practice, you will have to do without it out of respect for the local ecology. Instead our staff will offer you iodine tablets for your water bottles when necessary.
MONEY AND VALUABLES
While on trek money is required only for your petty purchases like soft drinks and souvenirs you might want to buy on the trail, you are advised to carry just enough money in Nepalese currency for these purposes. All your other valuables and money is to be deposited at your hotel's safe deposit boxes or other safe place.
FIRST-AID KIT
Apart from a few basic supplementary items, we provide a first aid kit on our group treks. However it is handy to have few sleeping pills to use at high altitude, pain relief pills with codeine for high altitude headaches, anti-diarrhoeal tablets, blister pads, sterile plain and crepe bandages, a tube of anti-septic cream, decongestants, antihistamines, throat lozenges and aspirin and of course the medicines prescribed by your physician.
IMMUNISATION
To get immunized against certain illness like cholera, Typhoid, Malaria, Meningitis and Hepatitis that are not prevalent in your country, it is recommended that you, at your physician's advice get these inoculations.

CONDITIONS FOR BOOKING A TREK
Booking a trek can be done directly through mail, your travel agent or you could just drop a few lines informing us about the trek you want to make, we can furnish you with the details. Your booking will only be confirmed at the receipt of the 25% of the trek cost payable atleast twelve weeks in advance. The balance will be paid in Kathmandu before the commencement of the trek.
CANCELLATION
Your deposit will be forfeited if your cancellation comes later than six weeks before the date of commencement of the trek.
INSURANCE
It is advisable that you insure yourself against eventualities of serious illness or accident. The insurance should also cover you for possible evacuation by helicopter, which can cost you about $2,000. A contribution of $ 20 is to be made for the insurance of the porters.
TARIFF
Our tariff does not include the hire of sleeping bags, down jackets, ice-axes, crampons or ski sticks. 15 Kgs. Of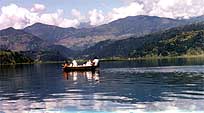 baggage allowance per person is allowed on the trek exceeding which a portage of US$0.25 per kg per week will be charged. Included in the tariff is the transportation to start in and pick up points either by air or surface transport. The cost however does not include Visa fees, National Park fees, Airport taxes or tips to the staff. We arrange Trekking, Climbing, and Exception permits of which an application form will be sent to you to be filled. Expeditions permits should however be applied well in advance to avoid disappointments.
LOMANTHANG TREKS' SPECIAL OFFERS
As we are head-quartered in Jomsom we can provide services few other trekking agencies can offer; for instance, we can provide ponies for the ones who find it hard to cope with the terrain and yet does not want to miss the experience. We use mules, the local and traditional means of transport as far as practicable in order to avoid unnecessary influx, (in terms of porters mainly from the lower hills) this also saves the forest cover that porters burn to prepare food. Not to mention the stimulus it gives to the local economy that hiring of the animals will provide.
WHAT ELSE DO WE HAVE TO OFFER?
Nepal has myriads of options to offer to visitors from scaling some of the highest peaks in the world up in the Himalayas down to a Safari in the humid tropical climes. The southern belt of the country where some of the rarest of the wild lives like the One-horned rhino, and the Royal Bengal tiger are to be found and Snow leopard, blue sheep and Wild Yak up in the northern hinterland and not to miss are the variety of migratory and other bird species that Nepal is rich in. Once can fly, drive or raft down one of the turbulent Himalayan Rivers to reach the terai belt from Kathmandu.

Lomanthang Treks can make for the more variety loving people all the necessary arrangements for a more comprehensive and wider ranged experience of Nepal. During your stay in Nepal we take care of your needs and requirements to the fullest possible extent. Just write, telex, fax, call us or just contact our agent things will start happening the way you want it to happen. Not an everyday sort of thing; ……. IS IT?