The Kingdom of Nepal, enclosed within the lofty peaks of the Himalayas, provides immense enjoyment to all travelers and adventure lovers.

Trekking is the only the way of knowing the people of great culture diversity and enjoying the scenic grandeur.
| | | |
| --- | --- | --- |
| | | Short treks reveal the picturesque hamlets surrounded by elaborate terraced fields and forested ridges; whereas longer treks yield rich contrasts from one ecological level to another- And there is always the prospect of viewing some of the highest mountains in the world. |
Here, at Jannu Himalayan Trekking, we can offer you the best in trekking and mountaineering services. With our experience behind you, your holiday in Nepal will be an exciting and enjoyable experience. We can save your time and temper in coping with the inexplicable complications of a strange culture. We travel with care and respect, incorporating ecological and cultural conservation practices. We can provide route advice, professional trekking staff, first-rate equipment and assistance with your Kathmandu arrangements. But the rest is up to you : your feet have to cope with the rocky trails, your body has to haul itself up the long, steep hills, your mind has to cope with a whole new environment but with our staff looking after the everyday worries, you will be free to enjoy the splendor of our mountains and the friendliness of our people. We invite you to join us and create your own memories of this special corner of the world. Few areas capture people's hearts and imagination like the Himalayas.
TREK SUGGESTIONS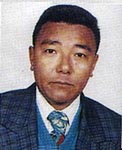 We can only give a very brief description in this web-site of the many possible treks which Nepal can offer. Even this list is not comprehensive and we can work out details of other routes if required. Some of the routes can be shortened or extended. Those routes which can be done as a tea shop trek are marked 'TS', together with the grading. Most can be done throughout the trekking season, but where there are seasonal limitations, these are marked.
The routes are described in a west-east direction, starting with the Humla region and ending in the Kanchenjunga area.
HUMLA TO MT. KAILAS - A trek from Nepal into Tibet - Moderate/Strenuous: 16-25 days.
The area has recently been opened to organized trekking groups, and its attraction as a new and exotic trekking destination. Mount Kailas, 6714 meters, is the most sacred mountain in Asia. For the Hindus, the mountain represents the seat of Shiva; for the Buddhists, a terrestrial projection of the cosmic Mandala of Dyani-Buddhas and Boddhisattvas............ The wheel o life.
The Journey through Humla, Nepal's highest, northern most and most remote district is culturally and scenically rewarding. This trek is possible only in the summer monsoon season from May to September, the entire region is snowbound in the winter; passes are closed.
DOLPA - Moderate/Strenuous: 23-30 days trek.
Dolpa lies north-west of the great Dhaulagiri massif. In an intimate seating of Gombas, spectacular vista of mountains, plateaus, valleys and forests, Dolpa offers the strange beauty and grandeur of the far western remote region of Nepal. The lure of Dolpa is its Tibet like setting, the typical Tibetan type of landscape-bare gray brown mountains, white clouds against a lucid blue sky. The northern part of Dolpa is perhaps the highest inhabited land on earth.
For some time now, Dolpa has been opened of organized trekking groups, and its attraction as a new and exotic trekking destination. Trekkers enjoy the satisfaction of exploring a region where not many have been before. Trekking to Dolpa can start at Pokhara and ending at Jumla and fly back to Kathmandu via Nepalgunj of start at Dunai and ending at Jumla.
MUSTANG - Moderate/Strenuous: 14-17 Days.
With Mustang, many new area of Nepal have been opened for limited travel. Government opened this route to organized trekking groups only, thereby ensuring it retains its unique attractions.
The route into Lo passes between stark mountainsides, through fields of barley, pastures of grazing yaks and goats and villages dominated by old Buddhist monasteries of the Sakya sect to the walled capital of Lomanthang.
GHOREPANI - (TS) Easy : 7-8 Days.
This trek starts from Pokhara through beautiful rhododendron forests, Gurung villages, panoramic views of Mt. Dhaulagiri, Himchuli, Gangapurna, Fishtail mountain, Annapurna North & South and many other Himalayas. You can observe the culture and tradition of Gurungs. The freshness of village-life is the most attractive one . You can enjoy the inner and hidden treasure of Nepalese culture and tradition.
ANNAPURNA SANCTUARY - (TS) Moderate - Oct./Dec; Mar/Apr.
This trek leads you to north west of Pokhara through and ancient trek to Tibet across glaciers, gorges water falls and you reach Annapurna Base Camp. From the base camp you have a close look to the high mountains. You will pass through the famous Gorkha soldiers village on the way. In these place you will find the storeroom of a new culture and tradition of different from the rest of all. At the final destination you will get the sanctuary waiting you with hearty welcome.
ANNAPURNA CIRCUIT - (TS) Moderate/strenuous - Oct./Nov; Mar/Apr.
A 21 day trek starting in Dumre and ending in Pokhara. This is another classic route which encircles the Annapurna range, following the Marsyangdi valley north to Manang, crossing the snow-covered Thorong La pass (5430m) to the sacred shrine at Muktinath, and returning to Pokhara by the Kali Gandaki valley. It is distinctive than any other treks by its variety of people, culture, landscape and natural scenery.
THE ROYAL TREK - Easy.
A 5 day trek followed by Prince Charles: hence the name! Starting in Pokhara, this low-level route follows the Bijaipur Khola east to Begnastal lake.
THE SIKLIS - Easy.
An 8 day trek starting in Pokhara and ending at Begnastal lake. Very few people follow this short but easy trek in the foothills northeast of Pokhara. Splendid views and unspoiled country side.
GORKHA-POKHARA - Easy.
A 9 Day trek through the foothills south of Manaslu and the Lamjung Himal, east of Pokhara. Can be combined with the Royal Trek to finish in Pokhara.
GANESH - Moderate.
A 15 Day trek starting in Trisuli Bazaar and ending in Gorkha. A little frequented route which explores Ganesh Himal and reaches Ganesh Base Camp (3570m).
SHIVAPURI - East.
A 4 Day trek along the Shivapuri ridge which forms the northern rim of the Kathmandu valley, starting at Buddhanilkantha and ending at Nagarkot.
HELAMBU -(TS) Easy.
A 7 Day trek which explores the Helambu region northeast of Kathmandu, visiting the delightful Tamang and Sherpa villages of Melamchigaon and Tarke Ghyang.
HELAMBU GOSAINKUNDA - (TS) Moderate.
A 10 Day trek starting at Sundarijal and ending at Dhunche. The route follows a ridge through Helambu and then crosses the Suryakunda Pass (4602) to the sacred lakes at Gosainkunda (4298) before descending to the Bhote Kosi valley at Dhunche.
LANGTANG, GOSAINKUNDA & HELAMBU - (TS) Moderate.
A 14 Day trek starting in Dhunche and ending at Bahunepatti Bazaar of Sundarijal. We explore the isolated Langtang valley (a national park) as far as Kyangjin Gompa(3749m) and then pass the sacred lakes of Gosainkunda (4602m) into Helambu where there are several possible routes. The trek can be extended with and easy ascent of Yala peak (4934m. Langtang) or by returning to Kathmandu via the Shivapuri ridge to Buddhanilkantha.
PANCH POKHARI - Moderate.
A 15 Day trek starting at Chauttara and ending at Buddhanilkantha, From Chauttara the route follows a ridge north to Panch Pokhari, an impressive circle on the southern edge of the Langtang range. We return through Helambu and follow the Shivapuri ridge to Buddhanilkantha.
MANASLU - Moderate/Strenuous: 25 Days.
This trek was hidden till the last few years. Nepalese government just declared open this route to trekkers. Enjoying divers tradition and culture of Sherpas, Tamangs and other people. Trekkers certainly think about real trekking route. One may feel he/she is not on the Earth but in the Heaven. This trek begins from Trisuli; northwest of Kathmandu.
KHUMBU & EVEREST - (TS) Moderate.
We suggest two possible treks depending on the time available. The 21 day trek starts as Jiri and spends a week on the classic expedition route through Solu to reach Namche Bazaar (3446m). The 14 day trek flies in to Lukla (2850m) and gives less time for acclimatization before reaching Namche. Both routes continue via the Tengboche monastery and Dingboche to reach Kala Patter(5540m.) from where there are magnificent views across the Khumbu glacier to Everest, Lhotse and Nuptse. We return to Lukla for the flight back to Kathmandu. At least two full days must be allowed in Kathmandu in case the Lukla flights are canceled.
For those with more serious mountaineering intention, it is possible to combine this classic trek with an ascent of Island Peak (6160m) which is reached from Dingboche. Another possible 'trekking peak' is Lobuche (6119m) but this requires considerable snow and ice skill and experience.
GOKYO & EVEREST - Strenuous - Oct./Nov; Mar/Apr.
A 21 day trek starting at Jiri and following the classic expedition route through Solu to Namche Bazaar. Then we ascend the Dudh Kosi to the Gokyo lakes and climb Gokyo Ri (5483m) before crossing the glaciated Chho La Pass (5420m) to Lobuche. We climb Kala patter (5540m) before returning to Namche and Lukla for the flight back to Kathmandu, Can be combined with an ascent of Lobuche (6119) for those with sufficient experience.
ARUN VALLEY TO EVEREST - Strenuous - Oct./Dec; Mar/Apr.
A 26 day trek starting with a flight to Biratnagar and road transport to Hille. We follow the Arun valley north for four days and then turn west over Salpa Bhanjyang (3350m) and Surkie La (3085m) to reach the Dudh Kosi valley. Heading north we reach Namche Bazaar and continue via Tengboche and Dingoche to Kala Patter (5540m). We return to Lukla for the flight to also walk out through Solu to Jiri . For those with sufficient time, we can include further exploration of the Khumbu with ascents to Gokyo, Island Peak and Lobuche.
MAKALU - Strenuous - Oct./Nov; Mar./Apr.
A 26 day trek starting with a flight to Biratnagar and road transport to Hille. We make a detour to the delightful village of Chainpur before descending to the Arun valley which we follow to Num. Then we head northwest over high passes and through desolate but beautiful country to reach Makalu base camp (5300). We return the same way but continue further down the Arun valley to Tumlingtar for the flight back to Kathmandu. If you wish, you may return via Hille and Biratnagar in an additional four days.
KANCHENJUNGA - Moderate/strenuous - Oct./Nov; March/April
18-30 days trek and exciting, special departure to the base camp of the world's third highest peak Kanchenjunga. At 8586m this great peak is topped only by Everest (8848m), and k2 (8614m) in Pakistan. The Nepalese government opened trekking groups only thereby ensuring it retains its unique attractions.
We fly to Biratnagar before driving to Basantapur to start our trekking or we can fly to Taplejung from Biratnagar directly. This is a magnificent walk, starting in the beautiful lowlands of Nepal. We pass through terraced fields, rice paddies and by the neat clustered house of the Newar, Chhettri and Rai people. The trail climbs gradually into a ridgeline of rhododendron, hemlock and fir. The views are spectacular, including Everest, Makalu (8481m), Lhotse and Kanchenjunga, four of the world's five highest mountains. As we gain altitude the views become even more dramatic as we approach the Yalung Glacier. Heading west over a series of high passes, we also visit Pangpema, (4800m) the base camp for many expeditions attempting Kanchenjunga. Our return trail follows the Tamor river valley, before we fly out from Taplejung to Kathmandu. A challenging trek to a rarely visited area, amongst stunning Himalayan majesty.
MOUNTAINEERING ADVENTURE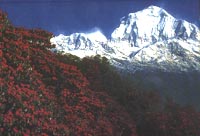 For the more adventurous traveller there are 18 minor trekking peaks open for Alpine climbing under Nepal Mountaineering Association (NMA). The climbing of these peaks is controlled under the rules and regulations formulated by the NMA. Detailed information and application for climbing permits are available at this company.
It should be noted that in most cases the climbing of these minor peaks (trekking peaks) require snow and ice climbing experience. We provide qualified and trained climbing guides to take non-climbers for convenience, safety and expected success. By Himalayan standard, these are considered minor peaks but in fact some of them provide relatively challenging snow and ice climbing of high standard, and more so in winter.
We also organize mountaineering expeditions in Nepal Himalayas. Detailed information in available on request.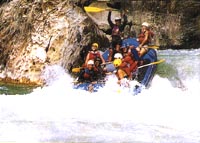 Rising from the glaciers of the highest mountains in the world and from the mysterious plateau of Tibet, the rivers plunge through narrow gorges of the rugged foothills and through lush tropical jungles before meandering across the plains of Terai. Rivers take the traveller to the very heart of a dramatic and magical land, and are one of the best ways to explore Nepal's ancient cultures and unspoiled landscapes.
We can make arrangements for white water rafting trips 1-5 days duration on the Trisuli river halfway between Kathmandu and Pokhara. These trips include transport by tourist coach, or can arrange private transport for you. Lunch is provided on one day trips; all meals and camping arrangements are provided on trips of longer duration. We use high quality European rafts; life jackets and helmets are provided. Join us for an excellent exciting and rewarding rivers of Nepal. we can even organize combination trips of your choice.
Chitwan national Park is the Terai region of Southern Nepal, 150 km from Kathmandu. It is an enclosed wildlife reservation where only a few tourist lodges/ jungle camps have been permitted. It is famous as one of the last reserves of the Indian one-horned rhinoceros and the Bengal tiger. Various species of deer, sloth bear, wild boar and monkey can be seen, as well as over-400 varieties of birds. Another creature interest is the fish-eating gharial crocodile which lives in the Rapti river which flows through the park.
The most usual arrangement is for 3 days, including 2 nights full board (Food and accommodation) Jungle walks, elephant rides, bird watching. Jungle drive canoeing trips, Tharu dance and national park entrance by tourist coach (fares included) or by private transport (at additional cost).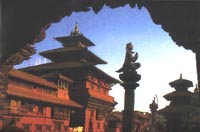 SPECIAL EXPEDITIONS
We also arrange special treks and expedition for those wish to pursue a special interest such as botany, wildlife, Buddhist monasteries, or more esoteric pursuits.
TIBET TOURS

Discover the colourful and vibrant people of Tibet. The clear water of turquoise lakes, visit monasteries and monks, wander amongst Yak herds, and fly over the Himalaya with us.

We can put you on Roof of the world and make your dream come true through its various fascinating package tours. Details available on request.
Presented by the Visit Nepal Network -
Copyright 1998 - All rights reserved.