TOURS TO TIBET
Tibet – the land over 4000m. and full of spirits lightning Buddhism, partially surrounded by mountain ranges with the highest Peak of the world.
After centuries of virtual isolation, Tibet is cautiously opening up to the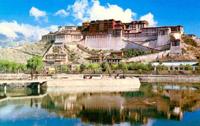 western world. Officially, China has opened the doors for travelers only these past few years. A visit to Tibet is a marvelous experience, although it is not for the faint-hearted tourists. Traveling to Tibet is difficult, adventurous, and unpredictable. Traveling in Tibet cannot be ignored as a simple trip but an experience of a lifetime, which we swear to let you obtain by our professional tour.
Kathmandu has fine transport connection with Lhasa, there is also flight of one hour to Lhasa from Kathmandu, which offers you retraces of the old caravan trail. Take off from Kathmandu turns north with gigantic snow peaks passing through eastern Himalaya as far as Mt. Everest. As soon as the mountains drop away, you glide across the barren Tibetan plateau to land at Gonggar Airport situated 85 kilometers from Lhasa.
Contact for more information.
Lhasa – The city Lhasa is the highest altitudinal city in the world. Lhasa has the pride of highest peaked city in the world with the altitude of 3650meters. Potala Palace, built in 1645 AD having 1000 rooms, 10000 shrines and 100000 statues, is magnificent to look. The Jhokhanng Temple in the city built in 17th century is the Budhhist shrine brought to Tibet from Nepal. This shrine has various attractive arts and crafts, which impress the tourists.
Norbulinkha is "Jeweled Garden" in local language has 160000 sq. meters of wooded greenery and three beautiful palaces. About 10 kilometers far from city, there is the largest monastery called Drepung Monastery, which was built in 1416. Another popular monastery is Sera Monastery with nine-meter figure of Maitraya, which was erected in 1419. It is 9 km north of Lhasa.
Other major cities of Tibet are Shigatse, Gyantse,and Tsetang which offer very pleasant sights and early history.
Contact for more information.
Hermitage's Tibet tour in different modes:
TOUR 01:
7 Nights/8 Days Tibet Tour – An adventurous drive to Lhasa from Kathmandu through High Mountain passes and cultural hamlets and the breathtaking mountain flight back to Kathmandu or onward China. Doing the trip reverse is possible too.
TOUR 02:
4 Nights/5 Days Tibet Tour – Breathtaking flight over Himalaya to Lhasa from Kathmandu and the same way back.
TOUR 03:
14 Nights/15 Days Tibet Everest B.C.Tour – Flight to Lhasa, trekking tour to
Everest Base Camp and exciting drive to Kathmandu.
TOUR 04:
14 Nights/15 Days Mt.Kailash Tour – Adventure drive to Mt.Kailash for trekking and drive back to Kathmandu.
TOUR 05:
20 Nights/21 Days Mt. Kailash - Lhasa Tour – Adventure drive to Mt. Kailash for trekking and to Lhasa for exploration and breathtaking flight back to Kathmandu. And a suitable itinerary can be planned as per the group's wish.
Contact for more information.





Site Designed by: VisitNepal.comSM - Travel Information NetworkTM
© 2001 Hermitage: Hermitage Tours & Travels Pvt. Ltd.