Success Stories of Nepalis in USA


Usha Lama – a successful businesswoman in Fremont, California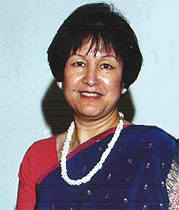 Mrs. Usha Lama, a successful Nepali in the United States of America has proved that whatever she does in her life, success follows her.
From the early days of her career as an Air Hostess with Royal Nepal Airlines Corporation (RNAC) till this day, when she is a recognized Nepali in USA as the versatile, competent and exuberant President of her self established and highly reputed travel agency – Third Eye Travel, she has achieved everything and the SUCCESS through hard work and dedication to the business by offering the best value and services to her clients.

After completing her education from Kalimpong, Darjeeling she came to Nepal not in search of a job but to start the job that she had already bagged while in Kalimpong. That was the year 1972 when she was the selected one to work for RNAC as an Air Hostess. Her job flew her to places and sky has been the only limit.
UShA in USA – A Destiny
Mrs. Lama says it is her destiny that brought her to USA and especially to California. She came for a short visit to California in 1976 and her fate was to bring her once again to this very place the same year, not alone but married to her "loved & arranged" man - Mr. Dorji Lama. Mr. Lama was already an established Engineer (Electronics) in California then and this immensely helped Mrs. Lama to settle down effortlessly.
The next big thing to do for Mrs. Lama after settlement was to get into something that gave her personal gratification, something that made her feel happy and satisfied. She took up a course on Travel Agency and worked for various American Corporate Agencies which finally paved her way to open her own tour and travel business in 1989 which she named Third Eye Travel, Inc.
Mrs. Lama is very happy with her business which she believes got started at the right time. She has been promoting Nepal with various tour packages. As tourism is down in Nepal, her clients traveling to Nepal is also slacking. Earlier, it used to be 75% American clientele which has now plunged down to almost 20%. She says at such a scenario too, it is the Nepalese in USA who have helped to sustain her business. Approximately 500 – 800 round trip tickets to Nepal are purchased by the Nepalese in a year, and most of them are the students.
Apart from Nepal, she has package tours to Tibet, Bhutan, India, China, Mongolia, Bangladesh, Sri Lanka, Sikkim, Darjeeling, Southeast Asia and other destinations including Hawaiian package & cruise. She recently made a trip to Burma to gain knowledge about the country so that she could promote yet another package to Burma. She believes in "Seeing is Believing".
Third Eye Travel has been known for its good repute and first-class service and Mrs. Lama hopes to further expand her business and continue the best and quality service to her clients whom she regards as the backbone of her success. And she has two Nepali staff working for her to achieve her goals.
Family Oriented Ties
Her husband Mr. Lama is very supportive in whatever she does and helps her in her business too. She is proud of Rinchen, 22 and Pema, 19 - her two loving daughters. Her elder daughter Rinchen is graduating in May in Broadcasting. She has fond memories of her late parents Mr. Padam Singh Basnet and Mrs. Devimaya Basnet and her elder sister. She is very close to her brothers - two of them are in Kalimpong and one in Nepal.
Mrs. Lama feels happy about her closely knitted family. Her mother-in-law, brothers-in-law and sisters-in-law also live in California. They are very supportive and always there for each other.
Charitable Works
Mrs. Lama has her helping hands always ready when it comes to doing something good for others. She does it almost everyday in her every little ways. She has supported a couple of charity organizations in Nepal too which she terms as her "small support". She is also the Executive Member of Nepali Association of Northern California (NANC), a non-profit organization founded in 1994 with the objective to preserve and promote Nepali culture and identity.

US Dreamers
Mrs. Lama encourages the younger generation to dream and dream big. But she emphasizes on "focus" – the key word towards success and happiness. She feels that most of the youngsters come to US with higher expectations and are easily disappointed and frustrated when they don't get instant gratification. She says, "US is not about glamour but all about hard work". She suggests the younger generation to imbibe good things from both our worlds; good things from US and good things from our own culture and lead a balanced life without forgetting our roots.
By Binita Joshi Shrestha
Write to us and be a part of the success stories.
related topics
other topics viewed by visitors