Success Stories of Nepalis in USA


Sushil P. Adhikari - a well known figure in Dallas, Texas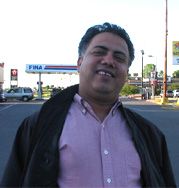 Mr. Sushil P. Adhikari, born on October 21, 1966 as the second son to father Jaya P. Adhikari and mother Tribhuwaneshowri Adhikari in Mukunda VDC of Nawalparasi district, Nepal is a successful Nepali in the United States of America.
Upon completion of Law Degree from Nepal Law Campus, Mr. Adhikari established Maitri Law Firm in Bagbazar, Kathmandu in 1991. He is still an Active Member of Nepal Bar Association. His four years stint at the Central Bureau of Statistics proved advantageous in his legal career.
While his two brothers chose to be Engineers, he opted to become a Lawyer. He acknowledges Mr. Khagendra GC, a lawyer himself by profession and a close family friend for inspiring him to be what he is today. Mr. GC is also another successful Nepali Lawyer in USA.
Journey to USA
It was the year 1995 when Mr. Adhikari made an initial visit to USA. He chose New York then. While enjoying the hustle and bustle of New York, he constantly kept his eyes open for scholarship so that he could pursue his dream to get an American education in Law. Six months flew like and arrow and when he sensed his desire bleak, he chose to return back to Kathmandu where he continued working for his own law firm but he still hold his dream for higher education in USA.
Dreams do come true and it did for Mr. Adhikari too. Just after six months of his return to Kathmandu, he got himself enrolled as a student of Master's of Law in Southern Methodist University (SMU), Dallas, Texas. It took him two years, from 1996 to 1998 to hold a Master's Degree in Comparative & International Law from SMU.
Immediately after the completion of his studies in 1998, he got affiliated with Pant Law Firm followed by the Law Office of Michael J. Williams PC (Professional Corporation) where he is still working as a Legal Consultant. His expertise ranges from various types of Immigration Visas to other Company & Corporation Law like Contracts & Foreign Investments.
His clientele includes 90% of Nepalis and 10% of non-immigrants from Liberia,South Africa, India and other countries. At least 3 cases a week comes his way and between 1998 to April 2005, he has handled as many cases as 1500. He is a busy legal consultant and to deal with his busy schedule he has four attorneys working for him. But his dream does not limit here, he aspires to work for the US Government someday soon.
Social Work
Mr. Adhikari is interested in social work too. He does social work everyday by reaching to the people who needs information on US immigration laws. He is always there for the Nepalis who look up to him for guidance. His very interest into this field also led him to run a Non Governmental Organization (NGO) named Community Development Research Center (CDRC) in Nepal launched to literate the senior citizens of Dhading. The two year project funded by PACT, USA benefited approximately 400 senior citizens.
He is one of the active persons behind the foundation of Nepalese Society of Texas (NST) in 1998, an association established to bridge the Nepalis living in Texas. He served the Society for 14 months as the Vice President.
Love for Nepal
Distance makes heart go fonder and his love for Nepal has been growing ever since. Had the legal base in Nepal been stronger and the lost PEACE be restored, he sees himself in Nepal starting his own new law firm.
He is also very concerned with the level of brain drain amongst the younger generation. He says, "it is good to have a dream and follow it but it might not do good to linger with it for a long period of time". He wants the younger generation to follow their dreams to come to USA and make efforts to realize their dreams and once the dream is achieved, he suggests them to return and establish oneself in ones own country amidst ones own culture. Similarly, he expects good incentive and motivation from the Nepali Government so that our youths find greener pastures in our own land.

Mr. Adhikari requests and suggests the established Nepalis to stay happy and carry on in their chosen profession as their dreams to do better in the USA than in Nepal may become difficult in terms of economic and legal boundary.
By Binita Joshi Shrestha
Write to us and be a part of the success stories.
related topics
other topics viewed by visitors