...Success and failure, these are the pros and cons of life. Either you are elated with your success or distressed with your failure...

~ Binita Joshi Shrestha

Success Stories of Nepalis in USA


Ajaya M. Chhochoon – a social worker in Dallas, Texas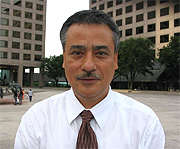 When you talk about Mr. Ajaya M. Chhochoon, you will definitely talk about his contributions in the creation of Dallas Everest Lions Club in Texas, USA.

Born to a writer father Maheshwor M. Chhochoon (now a retired Judge) and late mother Nani Baba Chhochoon on the first day of January 1956 in Kathmandu, Mr. Chhochoon is married and has two daughters and a son.
He is one man with multiple talents – well versed with versatility, ready to do anything and everything. With so many feathers on his cap he has confirmed that a "Jack of All is Master of All".

Integrity in Diversity - From Lecturer to Businessman to Artiste
A post graduate in Economics, Mr. Chhochoon taught in Saraswoti Multiple Campus as a Lecturer for 19 years, where he was also the Assistant Campus Chief and the Chairman of Economics Instruction Committee.

He started his business with Friendly Home – a budget tourist guest house and later opened Friendly Travels & Tours in Thamel. As the Founder President of Durbar Square Tourism Promotion Committee, he successfully stopped the vehicular movement in Durbar Square area making it a walk free zone for the tourists. He was the Executive Member of Nepal Association of Travel Agents (NATA) for two consecutive terms.

Between 1993/1994, he was involved in National Planning Commission (NPC) project as a Chief and made a policy on children by producing a report on child development and related topics.

A stage artiste by hobby, he also played a substantial role in a movie directed by Italian director Mario Fontana back in 1995.

Tryst with USA
"America just happened to me", says Mr. Chhochoon. He came to USA in 1999 in connection to his business but decided to live in America.

He is working as a Life Insurance Agent for American National Insurance Company - one of the biggest insurance companies in USA since July 2003. Before that he taught in Dallas Independent School District (DISD), Dallas, Texas for two years. He did art modeling in Des Moines, Iowa for a month.

He had his fair share of struggle in USA during the early days. While teaching in DISD, he had to face language problems especially with the accent. He at times still feels that it was not the right time for him, in terms of his age, to settle down in a new land. He says, "America is a land of opportunity and it is the right place for the youngsters who can do more and cash on more from it".

Once a Social Worker always a Social Worker -The Man behind DELC
Mr. Chhochoon learnt the ABC's of social work at home from his late mother who taught him the meaning of thinking beyond oneself and reaching a helping hand to others in need. That very thrust motivated him to join the Lions Club of Kathmandu Bagmati in 1988 where he was the President in 1994-1995 and Zone Chairman in 1998-1999.

Social work is an addiction for him and after coming to USA too, he longed to be in a social group and connect to people in need. Thus, he joined Irving Evening Lions Club in 2002, which later became the sponsor club of Dallas Everest Lions Club (DELC) - the first Lions Club in USA formed by Nepalese Community as per his information.

He wholeheartedly acknowledges the support he received from Ln. Carlton Dorman, Ln. Frank Pickens II and Ln. Bed Dulal to formally install DELC on April 8, 2003. Today DELC is a well established club with 27 promising members – 25 Nepalese and 2 Americans who fully understand the essence of Lionism. DELC, which has now become a platform to network between the Nepalese and the Native Community is also promoting Nepal through its various programs. Recently DELC presented a cultural program "An Evening in Nepal" where people got to enjoy various tastes of Nepal.

For his dedicated service, he has been awarded with many accolades and prestigious positions. Apart from being the Charter President of DELC, he is also the District Chairman for Youth Exchange Program and Director of Julien C. Hyer Lions Youth Camp for District 2X-1.
Future Plans
Mr. Chhochoon loves to be known as a social worker and a Lion above anything and he is planning to obtain a university degree in "Social Worker" soon.

He reminiscences the days back in Nepal when he was the Founder President of Association for Helping the Helpless. The association had to set up a health center to provide primary health services to the local people of Tokha, Saraswoti VDC although its initial objective was to construct an old age home. He hopes to revive that dream by building a home for senior citizens in Nepal with the help of Lions International Project and the Nepalese in US and Nepal.

He also wishes to actively partake in further strengthening the existing diplomatic ties between US and Nepal in any possible way.

Last Words
"Let us have our Sundar Shanta Bishal (beautiful, peaceful, bountiful) Nepal back and let us all feel proud to be a Nepali again".

Contact Mr. Ajaya M. Chhochoon by email at: friendlynepal91@yahoo.com or call at: 214 718 4590.
By Binita Joshi Shrestha
Write to us and be a part of the success stories.
related topics
other topics viewed by visitors