Robin Bhandari - a man with a gift of gab in Burtonsville, Maryland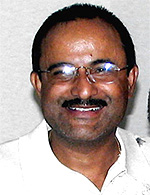 Mr. Robin Bhandari has a confident and dashing voice that resonates with high amicability making you feel comfortable and relaxed. People admire him for his mingling persona.
Born to father Siddhi Ram Bhandari and mother Shanti Bhandari 46 years ago in Ranipokhari, Kathmandu, Mr. Bhandari is the youngest sibling in the family. Like himself well settled in USA with his wife, a son and a daughter, his brother and sister are settled in New Zealand and Australia with their families.